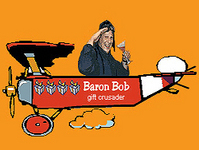 I'm loving this years Christmas list which owes my Facebook fans a big thanks for giving their valued feedback.
Maywood, NJ (PRWEB) November 22, 2010
According to the company's president Bob Brooks a.k.a. Baron Bob starts his process of finding the years best funny gifts in January and continues throughout the year. Items that are picked for the annual Christmas list are predominately based on sales, customer's feedback, and Baron Bob himself.
"I'm loving this year's Christmas list which owes my Facebook fans a big thanks for giving their valued feedback." says, Bob Brooks. He further states, "A returning customer just recently thanked me for keeping the Ho, Ho, Ho, in Christmas."
The following is Baron Bob's 2010 Christmas List of Best Funny Gifts.
iPLUNGE
Low tech usually sucks and this iPLUNGE phone stand is no different. It literally sucks via it's plunger onto an iPHONE or a similar device making a handy stand. Why? Perfect to watch movies and such - upright or wide screen. Just imagine the laughs as you pull out your plunger and go Luigi on your high tech device? $5.95
Blitzed'n The Singing Drunken Reindeer
New for the 2010 holiday season Blitzed'n the Singing Drunken Reindeer is in no shape to pull the sleigh. Instead he loves to sing his drunken version of "Oh Christmas Tree" all the while with head and bottle shaking about. Limited time price $16.95.
Wine Sock Monkey
How can you resist? Those cute button eyes. That drunken smile. Do Chuck Darwin a solid and walk into your next party with The Wine Sock Monkey. C'mon on, already...Evolve to the new age in Wine Protection and Wrapping Technology! $14.95
Inflatable Turkey
The Inflatable Turkey looks so delicious you can almost smell the stuffing. But keep the carving knives away, because this bird is strictly for show! Each 16" long, vinyl turkey is perfect for staging your Holiday table while the real turkey is roasting. $11.95
Santa Drinking Hat
This holiday season celebrate with the Santa Drinking Hat. Comfortable and functional this festive and intoxicating hat will be the hit of the party and just might enable you to see Santa on a foggy night. $14.95
A Christmas Story Candy
The beloved A Christmas Story movie now has it's own scrumptious fudge candy. Inspired by the flicks famous scene of Ralphie spewing out the queen-mother of dirty words, "Oooh fuuudge!" And as Ralphie narrated "only I didn't say Fudge." $7.95
Defrosty
These funny reusable ice cubes will bring the laughs this holiday season all the while keeping your drinks cold. Imagine entertaining guests and they see Frosty has met his melt. It's Holiday Hilarity! Set includes 6 lumps of coal and 3 bright orange carrots - enough to make a set of three drinks. $7.95
Christmas Boot Stockings
Give a boot to the traditional Christmas stocking! Imagine the surprise when your loved ones see that Santa has left a Boot Stocking instead. Made of sturdy and high quality fabric these stylish Christmas Boot Stockings measure approx. 19" tall x 15" wide. Choose from the Cowboy Boot, Rain Boot, Winter Boot Limited time price $9.95.
For additional information, call 862-881-1966, 800-788-1957 or visit BaronBob.com/Xmas.htm for even more Christmas gift ideas.
###