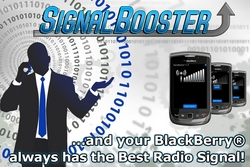 With just one click I boosted my signal strength by 60%! Since I use SignalBooster on my BlackBerry I can be sure to have the best radio reception possible.
(PRWEB) November 24, 2010
A dead zone or weak radio signal at some point can be annoying or even cost lives in a case of emergency. SignalBooster allows to recover a lost signal or boost a very weak one with just one click on any of the current BlackBerry® smartphone models in the market. It has been specifically designed to provide a comprehensive solution for optimizing the radio signal strength anywhere in the world.
SignalBooster is able to recover and boost the radio signal by up to 60%! If being used regularly SignalBooster will get the most out of every cellular network, thus allowing to maintain a high quality connection in places where that was not available by default.
An improved signal strength means faster transfers on all data communication as well as crisper voice quality on the BlackBerry® Wireless Handheld. Users who previously had to walk outside to answer their cellular phone, can now sit in the privacy, comfort and security of their homes or offices and have a crisp clear conversation with the help of the SignalBooster.
SignalBooster for BlackBerry® Smartphones is a pure software solution, there is no hardware to install or configure. The application has a visual main screen which provides a full overview over the current radio signal status of the BlackBerry® Smartphone. Extensive statistical data of each signal boost is gathered to visualize signal improvement of each signal boost. This effectiveness tracking shows how much work SignalBooster is doing and therefore allows to determine under which situation SignalBooster is most needed and most effective.
All current BlackBerry® smartphone models running BlackBerry® OS 4.6 and higher are compatible with SignalBooster. This includes but is not limited to the brand new BlackBerry® Torch™, BlackBerry® Bold™, BlackBerry® Storm™, BlackBerry® Tour™, BlackBerry® Pearl™ and BlackBerry® Curve™ smartphone series.
SignalBooster is available on BlackBerry® App World, all major mobile content platforms as well as directly on http://www.s4bb.com. For additional information about SignalBooster, please contact S4BB Limited or visit http://www.s4bb.com/software/signalbooster/
###