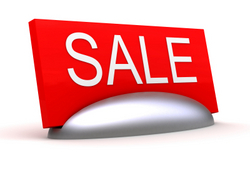 We are happy that we have been able to save millions of consumers hundreds of thousands, if not millions of dollars over the last 10 ½ years through our hundreds of sites, providing coupon codes, sales, deals, and free shipping offers
(PRWEB) November 24, 2010
AllBlackFridaySales.com and CyberMondaySales.net have each launched to help consumers get the best deals possible this upcoming holiday season. Mobile versions of both sites have also launched to help shoppers on-the-go.
Many other sites focusing on the post-Thanksgiving shopping days have a "set-it-and-forget-it" attitude and contain many dead links. Both of these web sites have links that are monitored and validated, and are updated 24 hours a day, including email alerts and communication via twitter (@AllBFSales and @ CyberMonSales).
Black Friday is the official opening day of holiday shopping season. Black Friday is famous for having deep discounts primarily in-store and some similar deals online. Cyber Monday is the first Monday following Black Friday, with serious online discounts that are better than Black Friday online. This year is projected to be the biggest holiday season online as the economy has significantly improved over the last two years.
AllBlackFridaySales.com has received many deals that will begin on Thanksgiving day and continue through Saturday at noon. Visitors to the site can also find some Black Friday ads from major retailers such as Best Buy.
CyberMondaySales.net provides information for exclusive sales and deals not found anywhere else. It is the busiest online shopping day of the year since more and more people would rather shop online than wait in long lines at the mall. Sites like Walmart.com, BestBuy.com and many others are now offering free shipping during the holiday season, making online shopping even more appealing.
Black Friday and Cyber Monday usually begin online around 6 AM ET, November 26th and November 29th, respectively.
Mobile users will automatically be directed to the mobile sites, or they can be visited directly at:
AllBlackFridaySales.com - http://www.allblackfridaysales.com/mobile/
CyberMondaySales.net - http://www.cybermondaysales.net/mobile/
These sites were launched by JustShopOnline.com (operated by idribble corporation), who has been covering Black Friday and Cyber Monday sales since 2000 and 2005, respectively.
"We are happy that we have been able to save millions of consumers hundreds of thousands, if not millions of dollars over the last 10 ½ years through our hundreds of sites, providing coupon codes, sales, deals, and free shipping offers," said Larry Dobbs, CEO of idribble corporation.
JustShopOnline.com is a registered trademark of idribble corporation.
JustShopOnline.com (JSO) has been saving millions of consumer's money for more than 10 years by offering the best deals online including coupons, sales, and free shipping offers. JSO's proprietary platform powers more than 160 one-stop shopping destinations in the United States with sites for coming soon in Canada and UK in the next 6 months.
idribble corporation operates more than 160 popular shopping sites in the US. Originally launched in 2000 as JustShopOnline.com, Inc., the name was changed to idribble corporation in 2005 to explore other markets. idribble is an authorized reseller of domain names and web hosting under the idribble small business brand. idribble powers a handful of other sites including idribblegames.com, which receives over a million hits per year of mostly school-aged players. idribble is a privately held debt-free company in Kansas City, MO.
idribble is a registered trademark of idribble corporation.
# # #