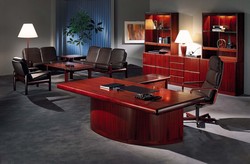 dyrlund furniture - the antiques of tomorrow
(PRWEB) November 25, 2010
In connection with its 50 year anniversary dyrlund has now re-launched its website http://www.dyrlund.com showing the very impressive selection of high quality furniture for both home and office.
All products are manufactured in Denmark.
The executive office furniture collection consists of several executive offices in a number of fine veneers - the beautiful rosewood veneer being the best selling. Our designs, such as the super skyline desk, has graced everywhere from banks to presidential offices around the world.
In addition to the executive offices dyrlund manufactures a broad selection of home furniture in both solid and veneered wood - both for living room, dining room and bedroom - also in a number of different woods.
The newly updated website does not only show photos of some of the products and video showing the features of our secretary desk, but also offers download of the specifications for both our office and residential ranges.
# # #