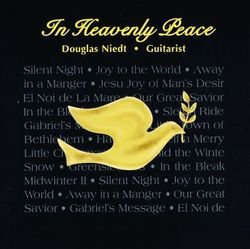 Perhaps the most beautiful classical guitar performances of Christmas songs assembled in one package. (Amazon.com)Add a quote
Kansas City, MO (PRWEB) November 30, 2010
Classical guitarist Douglas Niedt loves Christmas music. Since he was thirteen years old, he looked in vain for arrangements of Christmas music for the guitar that were out of the ordinary, that captured the magic, beauty, and spiritual significance of Christmas. Now, forty years later, he has devoted two years to researching Christmas music, composing arrangements, and recording them for his fans' enjoyment.
His Christmas CD, "In Heavenly Peace" contains some of the most creative and moving arrangements of Christmas music for solo guitar ever recorded. Samples may be heard on his website Christmas page. Amazon.com notes, "These performances are absolutely beautiful and nicely recorded. Almost as sweet as the recordings are Niedt's extensive liner notes of 'The Stories Behind the Carols.' Anyone who is a fan of Christmas music will drink in these notes and share Niedt's obvious heartfelt embracing of the music of Christmas."
On his website's Christmas page, Niedt also offers free downloadable MP3s of Christmas music and free Christmas sheet music for guitar. Included are: Silent Night, Away in a Manger, The First Noel, Greensleeves, We Three Kings, and I Saw Three Ships.
Douglas Niedt has also published a beautifully produced book of the printed Christmas sheet for guitar from the "In Heavenly Peace" CD. These arrangements are note-for-note and thoroughly fingered exactly as Niedt plays them on the recording. Sample pages are on his website.
Classical guitarist Douglas Niedt is a recording and concert artist. He studied with the great Spanish guitarist, Andres Segovia and at the Juilliard School. He is head of the guitar program at the University of Missouri--Kansas City Conservatory of Music and Dance.
For more information, please contact: Douglas Niedt, 816-235-2922, DouglasNiedt.com
###