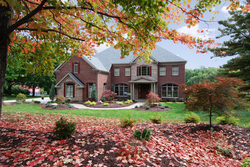 We focus on delivering quality and innovation at a good value, and we let the market tell us if we're doing it right or not.
Pittsburgh, Pa. (PRWEB) November 24, 2010
Home builder sentiment has taken a big hit since the highs of 2006, but one company continues to find ways to thrive in today's market. Without huge discounts, promotions, or free upgrades to lure customers in – Heartland Homes sold a record breaking 28 homes in a single day on Saturday, November 20th. "We've never believed that it's the right thing to do to use price as a weapon in taking market share," says Marty Gillespie, President of Heartland Homes. "Instead we focus on delivering quality and innovation at a good value, and we let the market tell us if we're doing it right or not."
The market, and their home building peers, will tell you that Heartland Homes is doing something right. "We're on pace to sell over 600 homes for the first time ever – a 22.7% increase over 2009," says Kevin Oakley, Director of Marketing for Heartland. "Our market share has risen from 7% in 2007 to well over 25% in 2010 while spending a million dollars a year less on advertising. We've grown during the time many home builders have gone out of business, and we're positioned extremely well to benefit at the first sign of a national recovery."
Why doesn't Heartland use big discounts or promotions anymore? "Because they're nothing other than an admission of guilt on the part of the home builder," says Gillespie. "It means you've screwed up. It takes away confidence from both our employees and our customers that our homes are worth the asking price. We think it's important to offer our customers the best pricing up front so they can make the best decision for their family."
Since November of 2009, when Heartland re-aligned their go-to-market strategy to eliminate large discounts and promotions, they have sold over 50 homes – every month. This month, they've already surpassed 51 sales. "The consistency is what is so impressive to me," says Gillespie. "We certainly haven't perfected this business, but we've figured out some critical pieces to the puzzle."
About Heartland Homes
Heartland Homes is Pittsburgh's #1 custom home builder, and has been family owned and operated for over 25 years. Heartland's goal is to create custom homes of the highest quality, at an affordable price, & with excellent customer service. For more information, visit http://www.LoveHeartland.com.
###