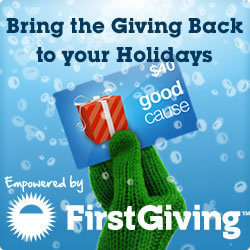 "We're passionate about empowering fundraisers to bring the spirit of giving to their entire lives, including their holidays," Karsten Robbins, FirstGiving CEO
Boston, MA (PRWEB) November 23, 2010
FirstGiving, a proven leader in providing online peer-to-peer fundraising tools, announced today the launch of its "Bring the Giving Back" holiday campaign. The campaign is based on the premise that the holidays have become overly focused on consumer exchange and less focused on the true giving spirit of the season.
FirstGiving's online tools allow a grassroots fundraiser to create a personalized webpage that benefits the nonprofit organization of his/her choice. Friends and family can make donations on the fundraiser's page in lieu of traditional holiday gifts.
This holiday season, Americans are expected to spend over $24 billion on gift cards alone. The cards average $40 in value. FirstGiving's "Bring the Giving Back" campaign recommends that fundraisers ask donors for a $40 donation that will have far greater personal meaning than a plastic gift card.
"Our organization has a true commitment to expanding the world of giving. Together with our parent company, JustGiving in the UK, we have raised over a billion dollars online for causes that matter, " said FirstGiving CEO Karsten Robbins. "We're passionate about empowering fundraisers to bring the spirit of giving to their entire lives, including their holidays."
For those that wish to participate in the campaign, but can't commit to fundraising during the busy holiday season, FirstGiving offers easy-to-use tools to donate to any cause.
To learn more about FirstGiving's "Bring the Giving Back" holiday fundraising campaign, visit http://www.bringgivingback.com.
About FirstGiving
FirstGiving empowers passionate individuals to raise money online for thousands of causes and helps 501c3 nonprofit organizations plan, execute, and measure successful online fundraising campaigns. FirstGiving is a proven provider of powerful, yet easy-to-use tools for charity fundraising events and grassroots fundraising campaigns and securely processes online donations. Fundraising ideas and fundraising tips abound on FirstGiving, and our personal fundraising pages are easier to use than any other fundraising software product. For more information, visit http://www.firstgiving.com.
###