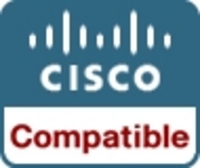 Verba Recording System can support all the new features of the Cisco Unified Communications Manager 8.0
Hackensack, NJ (PRWEB) November 23, 2010
Verba Technologies, a leading provider of call recording and quality management solutions for Cisco Unified Communications systems, is excited to announce that the latest version of its flagship solution, Verba Recording System 2010, passed the official Cisco Interoperability Verification Test (IVT) for the Cisco Unified Communications Manager 8.0 system. Go to http://www.cisco.com/go/compatibledisclaimer for complete disclaimer.
This latest certification—the fourth one received from Cisco Systems—solidifies Verba Technologies' commitment to deliver a reliable and scalable solution that is 100 percent compatible with all Cisco Unified Communications solutions. The result of more than eight years of development to create industry-leading call recording products for Cisco environments, the Verba Recording System is one of the most versatile and complete solutions in the marketplace and is currently deployed at more than 500 customer sites in 26 countries worldwide.
"The rigorous testing in the certification lab went smoothly and offers documented proof that the Verba Recording System can support all the new features of the Cisco Unified Communications Manager 8.0 platform, including the long-awaited ability to record encrypted calls, inter-cluster extension mobility, and chaperone-initiated call recording," said Greg Kovats, Director of Development, Verba Technologies.
Verified by Cisco and tekVizion, an independent testing laboratory, the Verba Recording System ensures high quality recordings of even the most complex call flow scenarios that occur in organizations such as call centers, financial institutions and government agencies worldwide. This latest certification offers customers the confidence that Verba Technologies is dedicated to supporting the Cisco platform, now and in the future.
About Verba Technologies
Verba Technologies is a leading provider of call recording solutions for unified communications platforms. A state-of-the-art call recording solution, the Verba Recording System supports voice, video and telepresence devices. Founded by industry veterans with more than 60 years of combined experience in the call recording, unified communications and software development fields, Verba takes an innovative approach to call recording by offering a product with more features, better technology and a lower price point. For more information, visit http://www.verba.com.
###