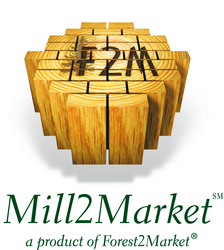 Working with the TWC is very important to us
Charlotte, NC (Vocus) November 23, 2010
Forest2Market®, Inc., a provider of market price data and supply chain expertise for wood products markets, has joined the Treated Wood Council (TWC), the international trade association of the treated wood industry.
"Working with the TWC is very important to us," says Bill Nocerino, Manager of Forest2Market's lumber division. "Their mission is to develop and deliver a consistent, powerful message to government authorities on treated wood issues, and we absolutely want to support that mission."
Mill2Market, Forest2Market's weekly lumber price reports and benchmarks, provides treaters with the data and market insight they need to make informed business decisions. When a manufacturer's costs are fixed, the ability to increase profit depends largely on how well it buys. Mill2Market contains special features—like the volume trend, price trend and variability indicators—that help subscribers buy at the right price, and do so confidently.
"Because the success of our business relies on the success of our customers, Forest2Market routinely supports the industry organizations by becoming members and sharing their missions with our Forest2Mill newsletter readers," said Nocerino. "The Treated Wood Council was a valued source of information and advocacy for me during the ten years I worked in the treated wood industry. If we can do anything to back the work they do, we're happy to."
The mission of the treated wood council is to serve all segments of the treated wood industry in the field of government affairs. Members include firms that produce pressure-treated wood products, chemical companies, wood manufacturers supplying products to the preserved wood market, associations whose members are affiliated with the preserved wood market, and companies engaged in activities related to the business of other Council members. The Council monitors and responds to legislation and regulatory activities related to the treated wood industry.
About Forest2Market
Headquartered in Charlotte, N.C., Forest2Market®, Inc. provides market price information and supply chain expertise as well as a variety of consulting services for those operating in the wood fiber supply chain, from the forest to the market. Forest2Market offers a comprehensive product line to help its clients better understand their competitive positions and provides the factual foundation they need to make operational and strategic decisions. Visit us at http://www.forest2market.com.
For more information, contact:
Suz-Anne Kinney
(704) 540-1440 ext. 21
suz-anne.kinney(at)forest2market(dot)com
###