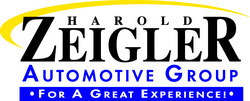 Kalamazoo, MI (PRWEB) November 22, 2010
Zeigler Automotive Group, the Midwest's leading auto dealer group, will hold a press conference for the greater Kalamazoo, Michigan community. The event will disseminate important information about the group's business development and job creation in the Kalamazoo and Chicago areas. As Zeigler Automotive continues its growth, the group will create 200 new jobs, of which over 100 will be located in Kalamazoo. In addition, new dealerships will be constructed and existing dealership properties will be expanded.
The new business development and job creation are great news for Kalamazoo and the Midwest as a whole. Zeigler Automotive Group's positive economic expansion benefits the region, the community, families and individuals. The dealer group is proud to announce the growth and new jobs, and will share details during the press conference.
WHAT:
Zeigler Automotive Group press conference to announce new business development and job creation in Kalamazoo and the Midwest
WHEN:
Tuesday, November 23, 2010 at 2:00 p.m. EST press conference
WHERE:
Zeigler Automotive Group Corporate Headquarters
Lincoln Mercury Showroom
4201 Stadium Drive
Kalamazoo, MI 49008
Map: http://bit.ly/9j6Nxk
Ample Parking
WHO:
Harold Zeigler- Chairman of Zeigler Automotive Group
Ron Kitchens- Chief Executive Officer of Southwest Michigan First
Aaron Zeigler- President of Zeigler Automotive Group
Dan Scheid- Chief Financial Officer of Zeigler Automotive Group
###