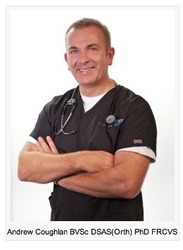 Website and arthritis videos are brilliant
(PRWEB) November 24, 2010
Arthritis in dogs is an ongoing and serious challenge for millions of pet owners throughout the world. Many dogs have their quality of life badly affected by arthritis, and some are barely able to walk. There is a huge amount of information from so called 'arthritis experts' on the internet. Some of this advice is at best useless, and there is also information that is potentially damaging to the health of dogs if applied by well-meaning owners. How do owners know who to trust and what advice to take to help attain the best quality of life possible for their dog?
The Veterinary Expert is a brand new website developed in response to demand for accurate and authoritative information on pet conditions. Arthritis in dogs is the first condition to be addressed. At http://www.arthritisdogs.net owners can watch free videos by leading veterinary orthopaedic specialist Dr Andrew Coughlan. They'll find out what the first question is that they must ask when their pet has been diagnosed with arthritis; how a diagnosis is made and the all important areas of treating and managing the condition.
Arthritis is big business in dogs as well as in human medicine, and large pharmaceutical companies promote their drugs heavily both to owners and to veterinary surgeons. Arthritis in dogs is usually a chronic condition that will need to be managed over a long period of time. Costs of drugs and supplements can mount to thousands of pounds over a dog's lifetime. These costs can be often be kept to a minimum with a tailored exercise and diet modification plan which increases quality of life for the dog and saves money for the owner.
Dr Coughlan has treated hundreds of dogs of all shapes and sizes with arthritis and is uniquely positioned to provide accurate and helpful veterinary information and advice for owners of dogs with arthritis. To watch the free video series go to the Arthritis in Dogs website now.
###