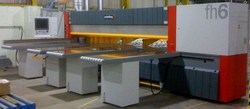 With new materials such as high gloss coated board as well as the traditional materials in our production, getting a perfectly square cut is very important
(PRWeb UK) November 23, 2010
(Vocus) November 23, 2010 -- Kingstown Furniture, the UK's leading manufacturer of ready assembled bedroom and lounge furniture, has invested in new cutting technology with the introduction of a Single Beam Saw from Austrian company, Schelling.
The new panel saw incorporates special features including a panel head turning device and dust cutting. Both of these features are essential for providing accurate cuts and angles, ensuring uniformity and a high quality production. The new saw also solves the problem of a saw jamming during the cutting process and with a rear loading ability, allows several panels to be loaded into the machine at one time.
"With new materials such as high gloss coated board as well as the traditional materials in our production, getting a perfectly square cut is very important," said Geoff Brailsford, Group Sales Director for Kingstown Furniture. "The new generation saw is a high quality piece of technology which will increase efficiency and output, and allow us to meet all the requirements of our customers."
With over 30 years' experience of furniture manufacture, Kingstown is committed to manufacturing high quality bedroom and lounge furniture here in the UK. With extensive, state-of-the-art manufacturing facilities at Hull, East Yorkshire, the business is well placed to respond quickly to customer requirements.
Copies of Kingstown Furniture's current brochure can be obtained by downloading from Kingstown's website: Kingstown Website or ring 01482 717232
###