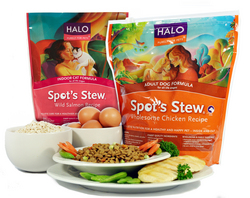 Halo co-owner and award-winning animal advocate, Ellen DeGeneres, who has appeared on the cover of Tails Magazine twice, says "Halo is the best - just read the ingredients!"
Tampa, FL (PRWEB) November 23, 2010
Halo, Purely for Pets® (http://www.halopets.com), a leading producer of natural pet care products, proved to be a fan favorite when the results of Tails Magazine's 2010 Readers' Choice Awards were announced earlier this month. According to the magazine, tens of thousands of readers voted for their favorite animal-related services and products in 15 cities in the publication's 10th annual Readers' Choice awards. Halo won a total 22 titles – more than ANY other pet food brand. In fact, Halo took more than three times as many titles as its nearest competitor.
Consumers in Los Angeles, Washington, DC, and Orlando helped Halo sweep the awards in each city, voting Halo the Winner in the Best Dog Food, Best Cat Food, Best Dog Treat and Best Cat Treat categories. Pet owners in Charlotte and Denver lauded Halo as the Winner in the Best Dog Food, Best Cat Food and Best Cat Treat categories, while fans in Indianapolis and Metro New York/New Jersey showed support for the brand with wins in the Best Cat Food category.
Dr. Greg Martinez, author of The Dog Dish Diet, states "Halo's healthy way of feeding our pets was the inspiration for my book. We are all learning that if we do not eat a balanced diet composed of whole healthy food, our bodies are at risk for chronic medical conditions. Our pets are no different. The word must be getting out!"
"The good folks who picked Halo as their favorite recognized that slick advertising from big companies means nothing," said Tracie Hotchner, award-winning radio host and author of The Dog Bible and of The Cat Bible. "Halo concentrates their efforts on philanthropy with Freekibble and dedicates the company's resources to optimal pet health, using only quality ingredients in their foods - which is why my own dogs eat only Halo Spot's Stew kibble."
Halo co-owner Ellen DeGeneres, who has appeared on the cover of Tails Magazine twice, "voted" for Halo as the choice for her pets, and was so pleased she decided to become a part owner of the company. An award-winning animal advocate, Ellen says, "Halo is the best – just read the ingredients!"
Halo, Purely For Pets® uses wholesome, natural, quality ingredients and only real meats in all of their pet food as they believe nutrition is the single most important factor in the quality of a pet's life. Halo is the only pet food honored with the National Canine Cancer Foundation Seal of Excellence, and the only leading brand with just fresh meat, no chicken meal or other rendered meats. Recently, Halo supported the United States Postal Service campaign to promote its 2010 social awareness stamp "Animal Rescue: Adopt a Shelter Pet" to raise awareness of pet adoption. In conjunction with this campaign, Halo, Purely For Pets® made a commitment to donate 1 million meals of Halo's Spot's Stew in 2010 to shelter pets awaiting adoption. Halo partnered with Freekibble.com and Freekibblekat.com to donate the 1 million meals. More recently Halo became Freekibble's exclusive pet food sponsor, continuing the commitment to feeding hungry shelter pets across the country.
For more information, please visit http://www.halopets.com, or pick up a copy of Tails Magazine at your local pet specialty store (http://www.tailsinc.com).
About Halo, Purely for Pets®:
For over 20 years, Halo, Purely for Pets® has created holistic pet products of uncompromising quality. Halo believes nutrition is the single most important factor in the quality of a pet's life. Halo's natural pet food, treats, supplements and grooming products - including the award-winning Halo Spot's Stew, Dream Coat and Liv-a-Littles treats - are available at PETCO, Whole Foods Market, thousands of independent pet specialty and natural food stores, and online at http://www.halopets.com.
Ellen DeGeneres – a long time Halo customer -- became a part-owner of Halo in 2008, saying, "because I think Halo is incredible, I decided to become part owner in hopes that all animals have the chance to be the healthiest they can be. And I'm anxious to spread the word so that everybody knows about Halo."
###