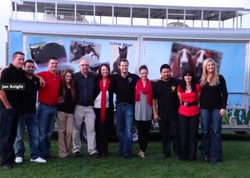 Not only were thousands of dollars raised for the animals, but five deserving shelter pets found forever homes due to this event!
Fresno, CA (Vocus) November 23, 2010
Twin Pomegranates Wine, a Fresno wine company, and the Valley Animal Center hosted an event on November 6th,2010--Paws and Pawmegranates. The event launched Twin Pomegranates Wine newest releases-- a Sparkling Pomegranate Wine and Pomegranate/White Wine blend, as well as celebrated the Valley Animal Center, and all they do for the Central Valley.
The Valley Animal Center brought their Mobile Adoption Rescue Caboose (M.A.R.C) with 20 adorable adoptable dogs. Guests were able to mingle with adoptable animals, browse silent auction items, sample new pomegranate wines, taste delicious appetizers, jellies, honeys and cheese and listen to live music by Jay Rousette and the Trio.
This was the first year Twin Pomegranates Wine and the Valley Animal Center partnered to do an event, and it won't be the last. This event raised $1,500 for the Valley Animal Center, and 5 dogs went to loving homes—the most M.A.R.C has ever had adopted!
"The Valley Animal Center is so appreciative of Twin Pomegranates Wine for supporting us with this event," said Director of Development Kelly Joos. "Not only were thousands of dollars raised for the animals, but five deserving shelter pets found forever homes due to this event!"
###