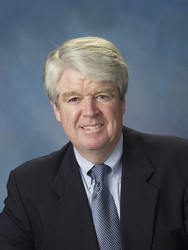 Niall O'Dowd, the publisher of the Irish Voice stated: "The Irish Legal 100 represents our most vibrant Irish network designed to bring people together, foster modern relationships with Ireland and to advance the interests of Irish America"
Newark, NJ (PRWEB) November 23, 2010
McCarter & English is pleased to announce that firm partner Thomas J. Goodwin has been named to the Irish Legal 100 list by the Irish Voice newspaper and Irish America magazine for the second consecutive year.
The Irish Legal 100 is comprised of some of the most accomplished and distinguished lawyers, judges, educators and politicians of Irish descent from around the country who share a passion for the law and pride in their heritage. Lawyers are chosen from law schools, law firms, judiciary and industry. Mr. Goodwin is joined by, among others, U.S. Supreme Court Justice John Roberts, Associate Justice Anthony Kennedy, Christopher Christie, Governor of New Jersey and Martin O'Malley, Governor of Maryland. Honorees were guests at a reception at the Washington, D.C. residence of the Hon. Michael Collins, Ireland's Ambassador to the United States.
Niall O'Dowd, the publisher of the Irish Voice stated: "The Irish Legal 100 represents our most vibrant Irish network designed to bring people together, foster modern relationships with Ireland and to advance the interests of Irish America"
Mr. Goodwin is based in the Newark, NJ office of McCarter. He practices primarily in the areas of business litigation and franchise and distribution law. He earned a B.S. from Fordham University and a J.D. from Fordham Law School. His clients include The Coca-Cola Company; Hayward Industries, Inc. (one of the country's largest manufacturers of swimming pool parts and accessories); and one of the country's leading tissue banks. He has also represented a North African monarch and medical device manufacturers.
Mr. Goodwin is a member of the American, New Jersey and New York Bar Associations as well as the Association of the Bar of the City of New York, the Federal Bar of the State of New Jersey, the American Bar Association's Forum on Franchising and the International Franchise Association.
Born and raised in Dublin, Ireland, Mr. Goodwin is a Member of the Board of Directors of the Ireland-U.S. Council. He was also named among the Most Influential U.S.-Irish Business Leaders by Business and Finance Magazine, Ireland's pre-eminent business publication.
The Irish Voice is a weekly newspaper covering all things Irish and Irish-American. It includes articles on news, sports and entertainment, plus features on Irish culture and tips on immigration. Founded in 1985 and aimed at the Irish American community in the U.S., Irish America is a bi-monthly magazine that focuses on a variety of topics inclusive of politics, tourism, culture, sports, art and literature, with special yearly editions honoring the leading Irish Americans in business and the arts. The publication also contains features on Irish American history, personalities, news and current affairs. Both publications are based out of New York and have a combined circulation of more than 150,000.
About McCarter & English
McCarter & English, established 165 years ago, represents Fortune 500 and middle-market companies in their national, regional and local litigation and on important transactions. Its 400 attorneys are based in offices in Boston, Hartford, New York, Newark, Philadelphia, Stamford and Wilmington. http://www.mccarter.com
###