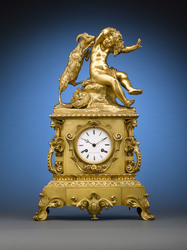 What makes this year's Palm Beach Jewelry, Art & Antique Show so spectacular is that we have the finest selection of estate, period and vintage jewelry that can be seen at any time, anywhere in the world
West Palm Beach, FL (Vocus) November 22, 2010
One of the most anticipated events of the season, the Palm Beach Jewelry, Art & Antique Show will return to the Palm Beach County Convention Center for its eighth year on Presidents' Day weekend, February 18-22, 2011. The show, which features the collections of more than 180 renowned international dealers, attracts tens of thousands of private collectors, museum curators, investors and interior designers who are eager to search for treasures and purchase some of the most unique and coveted fine art, jewelry and antiques in the world.
"What makes this year's Palm Beach Jewelry, Art & Antique Show so spectacular is that we have the finest selection of estate, period and vintage jewelry that can be seen at any time, anywhere in the world," said Kris Charamonde, managing partner of the Palm Beach Show Group. "We have assembled a group of the world's most prominent estate jewelers in the show that includes Betteridge, Camilla Dietz Bergeron, Ltd., Fred Leighton, Hancocks, Pierre/Famille, Primavera Gallery, Macklowe Gallery, Neil Marrs, Nelson Rarities, Inc., Richters Jewels, Sandra Cronan, Ltd., Symbolic & Chase, Vendome and Veronique Bamps."
In addition to the impressive array of estate jewelers participating in this year's show, guests will also have the opportunity to view and purchase from the collections of A.B. Levy Palm Beach, Drucker Antiques, Lillian Nassau, LLC, M.S. Rau Antiques, T.K. Asian Antiquities, Rehs Galleries, Inc. and William Cook, just to name a few. Items at the show will span every genre, including fine art, vintage and estate jewelry, furniture, porcelain, Asian art, American and European silver, glass, textiles, American folk art and more, ranging from the antiquities to the 20th century.
Further enhancing the show, an exclusive, invitation-only Opening Night Private Preview Party benefiting the Historical Society of Palm Beach County will kick off the show on Friday, February 18, and an educational lecture series that is free and open to the public will feature industry experts offering their extensive knowledge on a variety of captivating topics.
The 8th Annual Palm Beach Jewelry, Art & Antique Show will take place February 18-22, 2011 at the Palm Beach County Convention Center located at 650 Okeechobee Boulevard. Hours are Saturday, February 19, Sunday, February 20 and Monday, February 21 from 11:00 a.m. – 7:00 p.m., and Tuesday, February 22 from 11:00 a.m. – 6:00 p.m. Tickets are $15 daily and $25 for a 4-day pass. For more information, please visit http://www.palmbeachshow.com or contact the Palm Beach Show Group's director of public relations, Chrissy Lambert, at (561) 822-5440.
About the Palm Beach Show Group
Recognized as the nation's leading producer of premiere art and antique shows, the Palm Beach Show Group owns and operates the Palm Beach Jewelry, Art & Antique Show, widely recognized as the largest show of its kind in the United States, as well as the Baltimore Summer Antiques Show and the DALLAS International Art, Antique & Jewelry Show.
About CollectorsArtnet.com
The Palm Beach Show Group's new online venture, CollectorsArtnet.com, officially launched in September 2010. CollectorsArtnet.com is an international marketplace for fine art, antiques and jewelry where members can view and purchase the world's most exquisite treasures 24 hours a day, seven days a week and 365 days a year. Created especially for dealers, collectors and interior designers, the site is unique in that it is the only online resource where members can virtually interact with and purchase from an exclusive, handpicked community of Palm Beach Show Group dealers.
Now, not only can collectors travel to a Palm Beach Show Group show to meet face-to-face with the world's top dealers, but they can also conveniently view and purchase the finest antiques in the world year-round on CollectorsArtnet.com.
###