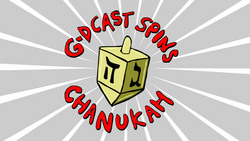 Thank you G-dcast for an entertaining and comprehensive lesson on Hanukkah! I'm a newlywed married to a Jewish man with little understanding about the holiday- 'til now. I am excited and ready to light our new menorah in a few weeks.
San Francisco, CA (PRWEB) November 23, 2010
Jewish animation studio G-dcast (rhymes with podcast) shares its new Chanukah family cartoon, PLUS, 8 fun ways to bring the Festival of Lights to life.
Chanukah comes "early" this year - right after Thanksgiving - giving families the chance to celebrate the holiday as a special experience completely distinct from "the other December holiday." But what's the meaning of Chanukah apart from presents and menorahs and latkes?
G-dcast is an animation studio that has brought the story of Chanukah to life in a five minute cartoon that's perfect for watching on your mobile device or on the web right before you light those candles this year.
G-dcast's on Fire with 8 Fun Ways to Celebrate the 8 Days of Chanukah.
1. Watch G-dcast's new Chanukah video with your friends or family to learn what the holiday is really all about. http://www.g-dcast.com/chanukah
2. Enter G-dcast's Chanukah contest - tell us what you learned from the video and get a chance to win an iPod Touch, a Chanukah gift basket or a delicious kosher gift basket! http://www.ChanukahStory.com
3. Challenge yourself to explain what the holiday means to someone who doesn't know the story.
4. Celebrate the miracle of the oil by indulging in fattening, oily foods: Make sweet potatoes latkes, have an olive oil tasting party, or serve jelly donuts.
5. Wear your identity on your sleeve like the Maccabees did! Find a Jewish t-shirt to wear online.
6. Wrestle (like the Greeks) with a new Jewish idea- pick up a book, magazine, or surf the web to learn something you didn't know about Judiasm.
7. Learn how to play Dreidel: the instructions are embedded in our cartoon.
8. Download the free G-dcast Chanukah MP3 - "I'm Just Fine" - from the G-dcast site. Play it for your kids and talk about what the lyrics mean. Download the song here: http://www.g-dcast.com/chanukahsong
###