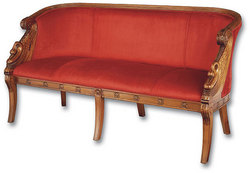 This year we are also putting our best-sellers on sale, which we have never done before
San Mateo, CA (PRWEB) November 23, 2010
In a move that confirms the holiday season truly is upon us, Laurel Crown, a San Mateo based furniture company has unveiled the details of their large Thanksgiving Sale that will take place Nov. 22nd-29th.
While most retailers will offer quick, one-day sales on the day after Thanksgiving known as Black Friday, Laurel Crown is going against convention by offering a week-long savings event.
Laurel Crown marketing executive Laurence Lok said, "We recognize that families are especially busy during Thanksgiving week preparing meals and spending time together, so we want to give people additional time to take advantage of our big sale. We also recognize that the holidays are a great time to upgrade your household's furniture"
The reproduction furniture purveyor is preparing one of the largest sales they've ever hosted. "This Thanksgiving week, there will be something on sale for everyone at prices you won't have to think twice about."
There are other draws to this sale besides the reduced prices. Laurel Crown has announced that they will pay shipping costs on all orders to the continental US and Canada during the sale.
"This year we are also putting our best-sellers on sale, which we have never done before," Lok explained. "We just hope we have enough pieces to last through the end of the sales week!"
Specific details of the deals and steals can be found on the Laurel Crown newsletter, which provides customers with exclusive promotions and inside information about upcoming events within the company.
About Laurel Crown:
Laurel Crown is a family-owned and operated furniture business, founded in 1990. The company prides itself on using flawless materials, time-honored techniques, and hand-craftsmanship. Every piece of antique reproduction furniture is constructed with authentic style.
Laurel Crown Corp.
801 Woodside Way
San Mateo, CA 94401
###