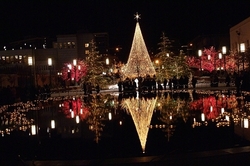 To have two such great artists and supporters of West Ridge Academy together performing in one event is a rare treat and reminds us all of the reason for the Christmas message
Salt Lake City, UT (Vocus) November 23, 2010
In an exciting combination of talent and message, David Archuleta will join the Mormon Tabernacle Choir for the 2010 Christmas Concert at the Conference Center on Temple Square in Salt Lake City, Utah. West Ridge Academy is especially excited about this Christmas Concert because these featured performers are also two very notable supporters of the school. Troubled teens that are succeeding in their programs at this residential treatment facility will be treated to a trip to the Conference Center on Temple Square to attend one of performances on December 17, 2010, in special recognition of their accomplishment.
David Archuleta, the American Idol Star, spent some time and performed at the West Ridge Academy campus in June of 2008 to support the Academy's mission to provide hope and healing in their programs for troubled teens and their families. He performed favorites such as Angels and Be Still, my Soul. Sharing his beliefs with the West Ridge Academy students and families created a night to remember by all who attended.
The Mormon Tabernacle Choir presented an inspiring performance for the annual fund raising gala for West Ridge Academy in April this year. In a capacity-filled Copper Hills High School venue, the Choir amazed and moved the audience of more than 1,000 supporters.
Now, these two supporters of West Ridge Academy are teaming up to bring their message and talents to the Annual Christmas Concert that runs from December 16th, 2010 through December 19th, 2010. Academy Director Ken Allen shares "To have two such great artists and supporters of West Ridge Academy together performing in one event is a rare treat and reminds us all of the reason for the Christmas message, which is the same message we teach and live every day with our families and students, the message of hope and healing."
West Ridge Academy is located in West Jordan, Utah. In operation since 1964, they have helped more than 25,000 teen-aged boys and girls. They currently employ 16 licensed professionals to work with the kids and their families. Teachers, therapists and staff are devoted to the success of each student. Treatment includes a combination of scholastic instruction, recreational therapy activities, art, music, scouting, and occasionally time away from the campus in recognition of each teen's success in his/her program.
For more information about West Ridge Academy or this Christmas performance, please visit the website at http://www.westridgeacademy.com, or call the school at 1.801.282.1000.
###