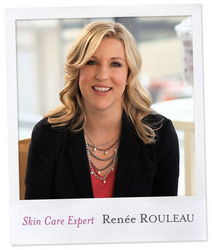 "The skin is a living organ and you have to treat it kindly"
Dallas, TX (PRWEB) November 23, 2010
The 1960s had cold cream, the 1980s featured alcohol-based astringents and now we have acids, enzymes and at-home chemical peels with potency unheard of just a few years ago. In the right hands, today's treatments work wonders. But too many women are going too far too often. Nationally known Skin Care Expert & Celebrity Esthetician, Renée Rouleau explains the 'Evils of Exfoliation' – What we're doing wrong when we think we're doing right.
Exfoliation = the removal of surface dry skin cells. It's considered one of the most important techniques that people can perform on their skin to resolve certain skin problems as well as achieve healthy glowing skin. Skin guru, Renée Rouleau http://www.ReneeRouleau.com , has helped women to attain healthy, glowing, beautiful skin for more than 20 years…today, she believes exfoliation is being taken to an unhealthy level. Never before have there been more potent and powerful gels, acids and peels available for women to keep their skin looking young. That's the good and bad news. While peels and exfoliants can work wonders for skin, too much of a good thing can cause major damage.
In today's day and age Renée has noticed the trend, "if it's not burning or stinging – it's not working". In their quest to look younger, women are getting too many aggressive treatments that are actually injuring their skin. Renée explains, "You don't want to exfoliate to the point of destroying healthy cells. When you give the skin trauma, the skin goes into repair mode and stimulates cellular regeneration. This can be very beneficial to the skin, but if you create trauma too often by over-exfoliating, then it's continually setting up a cascade of free radical damage that triggers premature aging." Along with pre-mature aging, over-exfoliation causes dryness, irritation & redness, increased sun sensitivity by 45 % or more, increased melanin activity, and destroys healthy cells.
When used properly, exfoliation is the key to looking young and refreshed. It untraps clogged pores, stimulates lipid production to keep the skin moist and the barrier intact, promotes cell turnover, removes dryness, breaks up pigmented cells to fade brown spots & post-breakout acne marks, smoothes skin, softens lines and makes large pores less noticeable. Ultrasonic facial brushes, over-the-counter acids, at-home peels, and facial scrubs all can promote healthy, balanced, hydrated, calm skin when used correctly.
So, you've over-exfoliated…now what to do? Rouleau explains some simple solutions:
•Exfoliation should not be done on a daily basis; three times per week (depending on the type of exfoliant) will suffice
•Make sure you always use as directed…it's as easy as reading the directions
•Use scrubs with round grains (not apricot kernels, walnut husks, or other natural grains that have sharp edges and can scratch and lacerate the skin causing irritation. Instead look for a facial scrub using polyethylene or micro beadlets that will gently roll across the skin
•Look for ingredients like ceramides, hazelnut, rose hips seed oil, borage, jojoba, and soybean; they assist in building up the skins barrier and help to keep it intact
•Avoid washing with cleansers that contain Ammonium Lauryl Sulfate, Ammonium Laureth Sulfate, Sodium Laureth Sulfate or Sodium Lauryl Sulfate, which can all cause dry skin
•Also use a baby washcloth that is gentler on skin. The rough texture of a regular washcloth can be too aggravating for skin that is already irritated
•Always wear an SPF 365 days a year – rain or shine to keep sun sensitivity at a minimum
Overall, when using any type of skincare product, Renée insists, "Listen to your skin. Your skin will tell you when something is not right. If your skin is irritated, it will let you know and you have to respect that."
Renée Rouleau believes there is more to skin then the generic categories of skin—dry, normal and oily, so her exclusive skin care includes 70 products and is based on nine unique skin types. Renée Rouleau has a loyal following of celebrities like Jessica Simpson, Ashlee Simpson-Wentz, Demi Lovato, Katie Cassidy and Kara DioGuardi.
If readers would like more information on what they should be doing with their skin, they can visit http://www.SkinCareAwareness.org. For more information on Renée Rouleau, please contact Meredith Reilly at Meredith(at)MorvilleReilly(dot)com – 201.400.8189
###