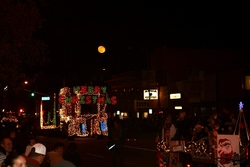 It's a lot of fun and a great way to kick off the Holiday season
Madera, CA (Vocus) November 23, 2010
Few things can bring out the festive spirit of the Holidays as Christmas lights. That being the case, the annual Madera Tractor Parade of Lights would fill anyone up with Holiday Spirit.
The annual event takes place exactly one week after Thanksgiving each year. This year, the parade is December 2, heading down Yosemite Avenue in Madera. While the parade originally featured only tractors, now any vehicle is allowed as long as it has at least 100 lights. The result is a beautiful procession of everything ranging from huge farm equipment to cars and even children's peddle and electric vehicles. (Children's vehicles need only 30 lights.)
"It's a lot of fun and a great way to kick off the Holiday season," said Jarrod Lyman with the Yosemite Sierra Visitors Bureau. "The event brings so many people together, and the entries are really quite impressive."
Madera was founded in 1876 by a lumber company, and was the collection point for the trees felled in the Sierra Nevada Mountains nearby. With the fertile soils of the San Joaquin Valley being so prevalent in Madera, the region quickly became a productive agricultural area as well. With many pistachios, almonds being grown here as well as grapes, pomegranates and much more, this agrarian lifestyle is reflected in the annual Tractor Parade of Lights.
Visitors coming in to town for the event can also explore the hospitality of Madera, as the annual Wine Stroll coincides with the event. More than 15 wineries will be on hand at local downtown businesses with wine samples and hors d'oeuvres.
Madera County is active in the wine industry, with many of the grapes used by wineries located in more well known wine areas coming from this region. In addition, Madera County is home to the Madera Wine Trail, with 12 wineries producing award winning wines of numerous varieties.
The Wine Stroll starts at 5 and continues through while supplies last, while the parade kicks off at 6 pm.
For more information,
contact Rochelle at Pete's Sports Shop (559) 673-5951 or
Sharon Creamer at (559) 479-1513
or the Madera Chamber of Commerce at (55) 673-3563
# # #