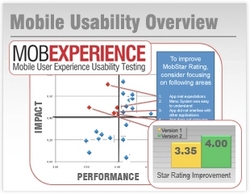 Brands must offer compelling, engaging and persistent mobile experiences with apps and websites that reflect the quality of the brand.
Calgary, AB (PRWEB) November 24, 2010
Mob4Hire, the world's largest mobile testing and usability research community, today announced that it has expanded its line of crowd-sourced mobile testing, usability and market research products in order to help Brands create engaging mobile experiences leading to increased customer loyalty.
"It's no longer about just quickly releasing a Brand app to get it in market," says Stephen King, CEO of Mob4Hire. "In order to get noticed, brands must offer compelling, engaging and persistent mobile experiences, and most importantly, release mobile apps and websites that reflect the quality of the brand. For customers using our global services, we guarantee the release of a great app that receives coveted 4 and 5 star ratings from users."
In the mobile world, customer loyalty is reflected in the "user star ratings and reviews" found in app stores. Ratings typically range from 1 to 5 stars, and a twitter-length comment from users (such as "Nice app" to "Sucks. Epic fail.") The importance of a top quality 5-star rating cannot be understated. With 450,000 mobile apps now being offered in over 100 app stores worldwide, it's tough for apps to get noticed. Research shows that users will only consider downloading apps with 4 or 5 stars. This is even more important for Branded Apps, where user expectations are high; see Mr. King's blog "How to make a Big Brand App not suck" post on Market Research News for more information.
Mob4Hire's announcement of its Version 4.5 platform today includes the enhancement of MobExperience as well as new products: MobA/BTest, MobSIMTest, MobSMSTest, and MobTasks. The full product line-up of Mob4Hire includes (* denotes new product):
1) Mobile Usability Testing and Certification: MobExperience, MobAccelerator and MobStar Certified*.
2) Mobile Functional Testing: MobTest, MobSIMTest*, MobSMSTest*
3) Mob4Hire Mobile Usability Products: MobSurvey, MobA/BTest*
4) Mobile Jobs: MobTasks*
The product expansion adds tools for companies across the mobile ecosystem, including mobile developers, market researchers, product managers, network operators, handset manufacturers, mobile operating system platforms, developer networks and app stores.
All Mob4Hire projects now include a dedicated Project Manager who is an expert in both executing projects and managing the crowd, so developers will be able to leverage that experience to get projects completed faster and at a lower cost. Customers can choose to use Mob4Hire on a project-by-project basis, or retain Mob4Hire's ongoing MobTestSuite services for end to end mobile functional and usability testing.
In reaction to the rapid increase in the number of testing and market research projects in its system, Mob4Hire has added a live chat support / sales instant messaging window to ensure quick customer response. Version 4.5 also finishes the migration of the Mob4Hire platform to the Amazon AWS services using the Scalr.net cluster for managing growth with a much better fault-tolerant and scalable system.
With 51,000 mobile testers in 152 countries, and 1,700 registered mobile developers from 90 countries, Mob4Hire is the world's largest mobile testing and market research community. By incorporating user feedback and in market testing to developers, Mob4Hire significantly reduces mobile application testing costs and reduces time to market by connecting developers with eager, lower priced, crowd sourced testers and focus groups. Mob4Hire also provides their unique micro-payment crowd-sourced MAAP technology (Mob4Hire as a Platform) to developer networks and app stores to take advantage of the "power of the crowd." Partners include Nokia Forum, Motorola Motodev, Samsung, RIM Blackberry Alliance, NAVTEQ, O2 Litmus and Flurry Analytics. Founded in 2007, Mob4Hire has garnered many awards including a Meffys (Mobile Entertainment Forum) Award, Red Herring 100 Award, Mobile Monday Peer Award, GSMA Barcelona Finalist, Branham 300 top 25 list of Canadian ICT startups, and a TechRev Top 10 Innovator award. Mob4Hire is headquartered in Calgary, Alberta, Canada with offices in Victoria, British Columbia and London, U.K.
# # #