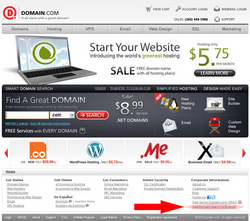 Add Domain Search to Browser
Vancouver, WA (PRWEB) November 23, 2010
Domain.com, a leading domain name registrar and web hosting company, today rolled out a helpful new feature for everyone who regularly searches for domain names. With this addition, Domain.com becomes the first domain registrar to fully integrate domain search into popular web browsers. Now anyone can quickly search for domain names straight from their browser's search bar without having to visit Domain.com when they think of a great domain name.
The domain search browser integration works on all popular browsers including Firefox, Google Chrome, and Internet Explorer. To integrate the Domain.com domain search into most browsers, users can visit http://www.domain.com and click on the "Add Domain Search to Browser" link located near the bottom of the homepage.
Once the domain search integration has been added to a browser, users can start searching for domains from the browser search bar by selecting the Domain.com search and entering their desired domain name with or without an extension. To learn how to use the domain search in individual browsers, visit: http://www.domain.com/blog/domaincom/search-for-a-domain-straight-from-your-browser-search-bar/.
ABOUT DOMAIN.COM
Helping entrepreneurs and business become successful online since 2000, Domain.com offers high quality, reliable web hosting and domain name registration services at the most affordable prices in the industry. Domain.com's full range of solutions to create and market websites includes web hosting, VPS hosting, Email, SSL certificates, website design, and email marketing. For more information visit: http://www.domain.com.
# # #