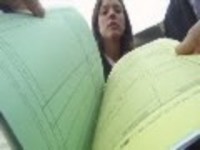 It's rewarding to see the carnet in action with our customers and it's a great plug for carnet use in general. CIB issues four to five thousand carnets annually but rarely does one get a ride on Air Force One.
Barrington, IL (PRWEB) November 29, 2010
A CNN travel crew unwittingly promoted President Obama's National Export Initiative when they documented their 20-hour whirlwind trip to Lisbon while following the President at the NATO Summit. Upon disembarking from Air Force One in Lisbon, CNN Photojournalists Khalil Abdallah and Martin Dougherty promptly presented Portuguese customs officials with a U.S.-issued ATA Carnet - an international customs document designed to promote temporary exports among 70+ countries. By including the customs clearance step of their trip and the ATA Carnet export document in the documentary, the journalists demonstrated the ease of use of this handy export tool. The ATA Carnet saves U.S exporters money and time when promoting products, performing on a tour or servicing equipment abroad. Casually called "paperwork" in the video, the ATA Carnet is used by more than 12,000 U.S. exporters of goods and services every year. Internationally there are 166,000 carnets issued annually. The CNN video shows first-hand how the document is presented to customs to expedite customs clearance and in lieu of depositing duties and taxes when entering a carnet country. CNN crews use ATA Carnets frequently to ensure that they can clear foreign and U.S. customs with their video gear without a hassle. Without the carnet they would deposit duties and taxes with every customs administration, in every country they travel to. And they would pay duty on the equipment re-entering the U.S.
When they issued the carnet, little did the carnet team at Corporation for International Business know that the passport for goods document would be a minor celebrity, travel with the President on Air Force One and have a cameo role in the CNN video. Glimpsing the blue, red and yellow "boomerang freightSM solutions by Corporation for International Business" logo inside the orange, yellow and blue carnet jacket, Jackie Dalgleish, Carnet Specialist, was heard shouting, "That's our carnet!" Curt Wilson, President of Corporation for International Business, was equally surprised but gratified to see that the service he delivers daily to U.S. companies traveling overseas was being incidentally documented by CNN for the 2010 NATO Summit. "It's rewarding to see our customers using the carnet in the field and it's a great plug for carnet use in general. CIB issues almost five thousand carnets annually but rarely does one get a ride on Air Force One." Mr. Wilson commented.
Corporation for International Business, located in Barrington, Illinois, is an ATA Carnet Service Provider to USCIB which manages the ATA Carnet system in the U.S. Due to a recent marketing partnership with the Department of Commerce and President Obama's goal to double U.S. exports in five years, the ATA Carnet is getting increased exposure for the economic and time-saving benefits it offers U.S. exporters of commercial samples, professional equipment and goods for trade shows and exhibitions. Exporters benefit not only from the time and costs savings but also from the suggestions and advice that Carnet Specialists offer to smooth the customs clearance on a trip to see a prospect, distributor, customer, exhibit in a trade show or tour abroad. In this case the "exporters" were a camera crew with expensive professional video equipment who were able to avoid customs clearance costs - duties and taxes - that would have been incurred without the ATA Carnet.
Carnet-toting CNN Photojournalists Abdallah and Dougherty - with camera gear in tow (and itemized on the carnet) - spent 20 hours traveling and documenting their trip with the U.S. President to Lisbon. Then they produced a 2:25 minute video covering all 20 hours and titled "Lisbon in fast forward" which appears on the CNN website, YouTube and aired after Wolf Blitzer's show The Situation Room a couple of days after the NATO Summit.
For more information about ATA Carnets contact Leslie August, Senior Vice President, Corporation for International Business at (847) 852-3103 or Leslie(at)ATACarnet(dot)com or visit the Corporation for International Business website.
###