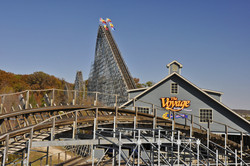 It's amazing to see and hear the enthusiasm these coaster-club members put into their hobby
Santa Claus, IN (Vocus) November 22, 2010
Roller coaster enthusiasts from around the world just may outnumber the residents in the tiny town of Santa Claus, Indiana, when they gather in June to celebrate roller-coaster riding during the park's annual HoliWood Nights event.
"It's amazing to see and hear the enthusiasm these coaster-club members put into their hobby," says Holiday World & Splashin' Safari President Dan Koch. "We offer two long nights of in-the-dark riding in an attempt to satisfy their craving to ride our coasters. And we still have to shoo them out at midnight!"
HoliWood Nights includes "exclusive ride time" (also called ERT) on The Raven, The Legend and The Voyage, from the time the park closes Friday and Saturday evenings until well after dark. A breakfast ERT session includes Wildebeest, the world's longest water coaster, in Holiday World's companion water park, Splashin' Safari.
Clubs represented at the two-day event in the past include the American Coaster Enthusiasts, the National Amusement Park Historical Association, the Roller Coaster Club of Great Britain, CoasterBuzz Club, Coaster Zombies, and the European Coaster Club. Holiday World's website includes information and online registration for HoliWood Nights on a special page designed for coaster-club members.
Holiday World Theme Park is the only park in the world with three top-15 wooden roller coasters. According to the latest Amusement Today readers survey, The Voyage is the world's #1 Wooden Coaster, The Raven is #9 and The Legend is #15. In addition, Wildebeest water coaster was named the #1 Waterpark Ride in the world by Amusement Today in September.
Family-owned and -operated by the Koch family since opening in 1946, Holiday World & Splashin' Safari, in Santa Claus, Indiana, will celebrate their 65th anniversary in 2011. For more information about the parks' 2011 season, and the addition of Rudolph's Round-Up and Safari Sam's SplashLand, visit http://www.holidayworld.com or call toll-free 1-877-463-2645.
# # #