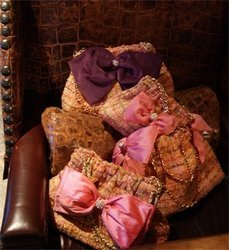 "Even in Manhattan where people are used to seeing incredible fashion, I am stopped and asked where I got my bag! I love it. Thanks!" Ashley
Charlotte, NC (PRWEB) November 23, 2010
Described as "the new crown jewel in your handbag collection" by retail experts. Princely Couture Handbags are topping holiday lists all around the globe from Dubai to Japan and across the US.
Princely Couture Handbags feature the company's signature bows prominently placed on each handbag. The line mixes bows, buttons, rhinestones and woven chain shoulder straps resulting in a perfect fit for every girly girl.
With collections called Ladies Who Lunch and The Cocktail Clutch as well as handbags named after date destinations, the question begs, how can't you fall in love?
"Lunch with Christian", "Around Town with Miles" and "Cocktails with Curt" are bestsellers that we cannot keep in stock " says, designer and owner Lindsay Monchecourt. "Women appreciate the mix of textiles used in our designs. They also love being able to customize fabrics as well as select the color of the suede or leather to have woven through the chain straps. Princely gives women the opportunity to wear the handbag of their dreams, a perfect expression of themselves."
Check out their testimonials page. It's a sonnet of love for the brand. Raina raves " I love, love, love this handbag. The colour combination is beautiful. The tapestry material and chain handle gives it elegance and the silk taffeta bow gives it a touch of whimsical fun. It is roomy enough and holds all of your essential needs without being too big. I've received lots of compliments on this handbag. Very happy with my purchase. Thank you!"
The line underwent a year of testing and design before being launched. What emerged is a collection of fabric handbags that maintain their shape and a style truly unique to the market. "The entire creation of our collection is by hand. From our woven chain handles to the couture stitching on our signature bows, Princely is handmade with love." says Monchecourt.
Through December 24,2010 anyone can participate in the Design Your Dream Handbag Contest run by Princely Couture Handbags on their website princelycouture.com.
The winning design will be created and presented to the selected "guest designer". The selection be featured on the Princely Couture Handbags homepage and announced on Princely Couture Handbags Facebook Page.
###