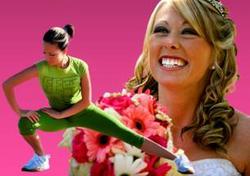 We deliver just the right mix of fitness and fun. Guests are challenged by the intensity but feel great at the end of each day about what they have accomplished. Then they head for everyone's favorite stop - THE SPA!
Tampa, FL (PRWEB) November 23, 2010
Maria Walker, founder and owner of Getaway Fitness, Inc. announces the launch of their Bridal Boot Camp Spa Vacations. Girlfriend Fitness Getways, a women only fitness vacation program offered by Getaway Fitness has expanded it's program offerings and now provides a bridal boot camp spa vacation that will help brides lose weight, get fit and healthy for their wedding day. Held at luxury resorts on the beaches of Florida and Southern California, their healthy girl getaways are filled with intense workouts, healthy gourmet meals, and nutritional guidance.
"More and more brides are looking for help with weight loss for their weddings. It's one of the most important days in a womans life and they want to feel beautiful and confident on that day," shares Maria Walker, founder of Getaway Fitness and Girlfriend Fitness Getaways. "It's our job to provide them with the tools to reach their goals for their wedding day, but also to help them create lifelong habits that will empower them to continue to be healthy and fit."
While their boot camp vacation allows down time for luxuries like spa services and sunning by the pool, don't let that pampering fool you. Their expert trainers deliver powerful workouts to the tune of five hours per day. Activities include beach boot camp, biking, yoga, pilates, kayaking and much more. Each guest completes an extensive profile that helps training staff understand the guest's goals so they can map out a custom plan for achieving it.
Luxury resorts such as the Don CeSar Beach Resort in St. Peterburg, FL and the Hotel Del Coronado in San Diego are the host locations for their bridal boot camp vacations. These beachfront resorts, which are already wedding destinations, provide an ideal location as they have pristine beaches, stunning sunsets and weather that is fabulous year round.
"We are really excited about the buzz this new program has created not only among brides but also wedding planners," states Maria Walker. "We have received enthusiastic calls from wedding and event planners about our bridal boot camp vacations. Our program helps their brides not only look and feel great on their wedding day. In addition, it offers planners a means to provide another service to their client. Planners pride themselves on being 'the resource' to their brides, and being able to address all their needs. Our program is another way they can do this. We look forward to continuing to expand the list of planners we can collaborate with to ensure a great experience and a fabulous wedding for their brides."
If you are worried that the groom will feel left out, worry no more. While the bride is getting fit, the groom can take off on a "mancation" with they boys and get the same intense boot camp work out at the Getaway Fitness Vacation program. http://www.getawayfitness.com
Bridal Boot Camp Spa Vacation packages range in cost from $1,395 to $3,695 depending on location and the number in the party. Packages are available for anywhere from two days to two weeks. Group discounts are available. You may also schedule a private retreat for you and your wedding party. Pricing includes deluxe hotel accommodations, three healthy gourmet meals daily, all fitness activities and nutritional guidance. More information may be obtained by calling 866.629.0555 or by visiting http://girlfriendfitnessgetaways.com/bridal-boot-camp.html.
# # #