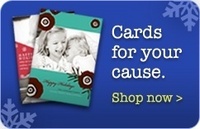 Personal holiday cards are a special part of the season. We want every card you send to benefit a cause that is meaningful to you.
Portland, OR (PRWEB) November 23, 2010
CafeGive, a shopping website where consumers' purchases earn money for a cause, and Tiny Prints, an online retailer of personalized cards and stationery, are joining together this holiday season to offer "Cards for Our Cause" The program, which truly embraces the season of giving, gives consumers the opportunity to give back while purchasing their holiday cards and gifts. When a consumer completes an order of $50 or more at Tiny Prints, $10 will go to one of twenty participating nonprofit organizations.
The consumer selects where the funds will go, allowing each shopper to support the cause he or she feels most passionate about. Participating nonprofits represent national and local organizations ranging from education to animal welfare, environmental causes and international concerns. All of these nonprofits have developed specific goals for this fundraising activity, and consumers can track progress toward each nonprofit's goal by visiting CafeGive.com or through CafeGive's Facebook application on the cause's Facebook page.
"CafeGive allows every shopper to direct part of any purchase they make online to the non-profit they choose," said Sandra Morris, CEO and founder of CafeGive. "Tiny Prints cards are a beautiful celebration of the season, and we are pleased to be able to offer this unique way for our causes and their communities to benefit from the relationship."
"Tiny Prints cards are like little gifts," said Tiny Prints CEO, Ed Han. "We pride ourselves on our quality and the care we take with every order. Now, thanks to CafeGive, those tiny gifts can give twice. We are delighted that CafeGive is working with so many nonprofit partners who can benefit from our holiday cards."
About CafeGive
CafeGive is a unique online shopping site that lets consumers shop for a cause. At no extra cost, CafeGive.com connects online shoppers to hundreds of high quality online merchants and more than 70 local and national nonprofit organizations to earn for their causes. In addition, CafeGive provides social networking tools that allow nonprofits and consumers to create specific fundraising goals and extend their outreach to family and friends.
About Tiny Prints
Tiny Prints, Inc. is comprised of Tiny Prints and Wedding Paper Divas, two thriving ecommerce brands offering stylish cards, invitations, personalized stationery and photo books to customers from around the world. The company's emphasis on fresh design, high quality products and a perfectly delightful customer experience have led to continued success in a variety of markets, Christmas cards to personalized greeting cards, photo books,business cards and beyond. Beloved by celebrities, top designers and stylish shoppers alike, Tiny Prints is quickly becoming a household name that is proud to remind us all that sometimes the tiny things in life are really the big things in disguise.
Media contact:
Lynette Anderson, Marketing Director and Press Relations
lynnette(at)cafegive(dot)com
503-819-0231
###