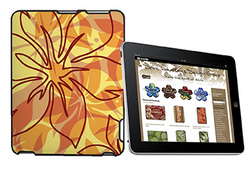 Irvine, CA (PRWEB) November 30, 2010
It doesn't get any cooler than this. Drive Industries Design Group, a designer of Hawaiian-themed apparel, gifts and products, has launched a new line of custom-designed protective cases for Apple® Inc.'s popular iPhone® and iPad™ in its store on zazzle.com. Featuring lush Hawaiiana artwork inspired by tropical flowers, pareau prints, surfboards and retro surf designs, Drive Industries has designed over 200 unique cases to give iPhones and iPads a cool island look.
Zazzle® is the world's leading platform for quality custom products, offering over 36 billion retail quality, one-of-a-kind products produced within 24 hours. Each case is vibrantly printed with high quality on-demand digital printing technology for which Zazzle is known. The company has partnered with premium case manufacturer Speck Products to produce custom iPhone and iPad cases that offer maximum protection. The hard shell cases come in two pieces with a printed fabric backing for fitted, comfortable handling.
Drive Industries Design Group brings over 20 years of experience in designing apparel and products for many of the top surf brands in the world. Now, through its Zazzle online store, shoppers can purchase its protective case designs for the iPhone and iPad by Drive Industries Design Group].
To view the iPhone and iPad case designs by Drive Industries Design Group, please visit: http://bit.ly/didgcases.
About Drive Industries Design Group
Drive Industries Design Group specializes in the easy lifestyle of coastal and island living. The company has designed for action sports, surf and home furnishing manufacturers for over 20 years. Its talented group of designers includes graphic artists, textile designers, photographers, illustrators and apparel designers. For more information, visit our shop on Zazzle and company website at http://www.driveindustries.com.
About Zazzle
Zazzle is the world's leading platform for quality custom products. Zazzle's proprietary technology enables individuals, professional artists, and major brands, including Disney and Hallmark, to create and offer billions of unique products for customers worldwide. Zazzle's rapidly expanding product base covers every topic imaginable and includes customized t-shirts, business cards templates, and personalized invitations in addition to a variety of other gifts. Upon creation, products are instantly and accurately visualized on the site and offered in the Zazzle marketplace. When ordered, each product is made on-demand, typically within 24 hours. Launched in 2005 and based in Redwood City, California, Zazzle's vision is to redefine commerce, powered by the world's imagination.
About Speck
Founded in 2001, Palo Alto-based Speck is a leading designer and maker of original, high quality cases, bags and packs for the latest popular portable electronic devices. The company is best known for its focus on creating refreshing designs that offer quality, thoughtful features, and distinctive style. For more information, visit: http://www.speckproducts.com.
Note to Editors: Download sample high and low-resolution images here of Drive Industries Design Group's iPhone and iPad case designs for use in your publication.
For media inquiries please contact:
Rita Alvy-Teeter
Drive Industries Design Group
4521 Campus Drive Suite #289
Irvine CA 92612
(949) 737-1994
rita(at)driveindustries(dot)com
http://www.driveindustries.com | http://www.twitter.com/driveindustries
# # #