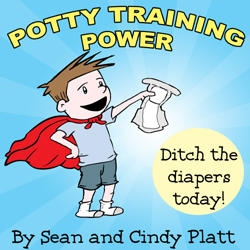 "We read it that night and started the next day…we haven't had an accident in two weeks! My friends can't believe my daughter is potty trained."
Cincinnati, Ohio (PRWEB) November 25, 2010
A Web-based service helps parents break the diaper habit effectively. Potty Training Power is a revolutionary service that combines a fact-filled eBook with prompt email support for parents who are struggling to potty train their child.
"My daughter, who is nearing two and a half, didn't mind having pee running down her leg two weeks ago, " says Cathy Rhodes, who began the Potty Training Power program as a last resort after weeks of frustration while attempting to potty train her daughter. "I didn't really think I was going to get answers from a website and my husband rolled his eyes when I told him that I was going to download a book about potty training." However, Cathy's skepticism was quickly dispelled after beginning the program. "We read it that night and started the next day…we haven't had an accident in two weeks! My friends can't believe my daughter is potty trained."
The success stories from pleasantly surprised parents who subscribe to the Potty Training Power service fill an entire page on the company's website. The Platt family, creators of the wildly successful service, credits their process to old-fashioned experience. With two children of their own successfully potty trained along with a host of other children at their home-based pre-school, Sean and Cindy Platt came by their proven techniques through trail and error, self education, and a lot of love along the way. They provide patient, caring, and knowledgeable support for Potty Training Power families during the process- a service that makes their potty training tips and support service unique and wildly popular.
With Potty Training Power help, parents are able to place their children in day care, stop changing dirty diapers, clothes and sheets, and save money. However, breaking the diaper habit isn't solely a selfish goal for parents and toddlers, it's also better for the environment. According to the Washington Post, the average infant goes through over 6,700 diapers before being potty trained! That's over $2,400 worth of diapers purchased and an incalculable cost to the environment when those dirty disposables are sent to the local landfill.
Eco-aware parents are striving to potty train toddlers at an earlier age, as are working parents who are looking to send their child to preschool (where successful potty training is often a requirement for enrollment). Potty Training Power is enabling parents to ditch the diapers effectively and in less time than with traditional methods.
###