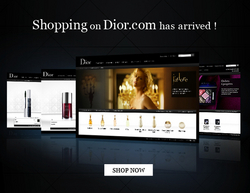 New York, NY (PRWEB) November 29, 2010
Dior Beauty is pleased to announce the launch of Dior.com's new beauty website, now featuring e-shopping! The site offers the most complete Dior Beauty luxury experience, beginning with the presentation of the entire Dior Beauty line—including fragrance, makeup and skincare—for one-stop shopping for all Dior Beauty needs. There are even online exclusives and product previews on new launches.
Looking to discover a personalized beauty routine? There is beauty advice broken down by category, from finding the perfect fragrance (and a look into Dior's "perfume ritual") to matching a foundation to skin tone. Once finding the right products, how to videos offer a full range of application tips.
The site is rich in information on the history of the brand and Monsieur Dior himself, as well as the most current developments in new products, technology and backstage action. In addition, customers can experience Dior's most iconic products such as J'adore, Miss Dior Cherie and Rouge Dior lipstick through various interactive features, including a Miss Dior Cherie Pop Up Book and a look at the couture dresses that inspired the latest lipstick shades.
Each gift order placed on Dior.com arrives wrapped in the intricate couture "plissé" tissue-folding style used in Dior boutiques and first instituted by Monsieur Dior.
For those who register to become a Dior Diva, shopping rewards, complimentary shipping for orders over $50 and insider invitations to special events await. The latest special opportunity for Divas? The Dior Diva Auction live from December 1-15 with once in a lifetime exclusive opportunities such as a trip to Paris inspired by J'adore, a trip to New York to lunch with Dior's CEO, a spa trip to St. Maarten to visit the Dior Institute, and more! 100% of proceeds benefit the Look Good Feel Better organization.
Log on today and explore the world of Dior Beauty!
# # #