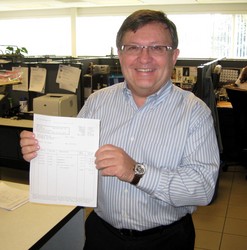 Hitting a 200 year milestone after just 20 years pretty much tells the story.
Coopersville, MI (PRWEB) November 25, 2010
Phil Allor, the owner of SelfLube in Coopersville, Michigan gathered all his employees around the office manager's desk to witness another milestone take place of their company's history. On the morning of November 16, SelfLube received their 100,000th order. "We've come a long way since first opening our doors in 1990," comments Phil Allor.
"Back when we were getting about 10 orders a week. At that rate it would have taken us 200 years to get where we are now. I guess we've grown a bit," he explains. Allor attributes this growth to two main factors: making a quality product and providing superior customer service. "Hitting a 200 year milestone after just 20 years pretty much tells the story," says Allor.
The company started out in 1990 when Allor purchased some used CNC equipment and began producing self-lubricating die wear plates, hence the name SelfLube. The self-lubrication comes from graphite, an amazing solid lubricant, which is embedded in the product. The resulting lubrication is permanent. This leads to long component life, better maintainability, design simplicity, and a high-degree cleanliness.
SelfLube has grown considerably over the past 20 years. Originally it made a single product line, which it sold mainly to local tool and die shops. It now makes thousands of products, with and without self-lubricating graphite, that it sells throughout North America.
And, the customer that placed that 100,000th order was just from down the road, Model Die & Mold Inc of Grand Rapids, Michigan. "Our hats are off to them for helping us make this possible," remarked Allor.
ABOUT SELFLUBE
SelfLube is a US based manufacturer of precision components - about 7,000 standard part numbers in all, which are used extensively in the tool and die industry and increasing in other industries as well. The company sells directly to build shops, which enables it to provide better pricing and excellent customer service for which it is known. It's record for on time delivery is among the best in the industry. For more information, visit http://www.selflube.com
###