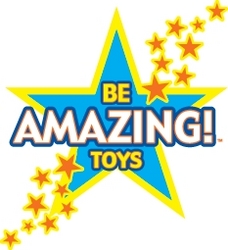 Salt Lake City, UT (PRWEB) November 24, 2010
It roars down upon us like an avalanche, getting bigger and louder and kinetically more impressive as it barrels along, picking up energy from retailer after retailer, until it overtakes both the unsuspecting and prepared alike. Yes, as of this Friday -- the one day of the year when even the most sedate of coach potatoes boldly ventures forth in search of enticing retail deals -- the Holiday Shopping Season has officially begun.
To help you safely navigate through the ensuing blizzard of promotions and deals and find just the right gift for each of the loved ones on your Holiday Shopping list, Be Amazing! Toys has put together a list of their most popular and beloved children's toys and science kits. These toys are not only engaging, entertaining and "just totally awesome" (as kids tend to put it), they teach fundamental scientific principals and help kids learn critical thinking and analytical deduction skills too.
Amazingly cool toys with lasting educational value? Yup, it's true. our toys prove that learning can be just as much fun as pure entertainment.
1. The Big Bag of Science – Retail price: $39.99
It's big, it's a bag and it's full of over 70 unique, cool, hands-on science adventures. Kids can make water flow uphill, build a 30' soda geyser, grow fake snow and balance 6 nails on the head of one, plus much, much more. Winner of the National Parenting Seal of Approval, the National Parenting Publications Award and Parent's Choice Foundation Approval. Ages 8 and up.
2. Test Tube Wonders – Retail price: $17.99
This kit of unbreakable test tubes is the founding member of BeAmazing! Toys' popular "Terrific Test Tube" family of products. Boasting over 20 different experiments, each test tube in this kit contains up to three separate cool activities and provides lots of learning fun. Kids can produce InstaSnow®, make magic sand, grow dinosaurs, trap rainbows and more. Ages 8 and up.
3. Blast of Color – Retail price: $17.99
This very cool kit allows your little genius to discover the world of color chemistry and the fun of physics. Make colorful fizzy solutions, use pipettes and color wheels to make new colors, sort colorful beads, watch them grow into colorful jelly marbles that bounce and grow rainbows in a test tube. These extremely visual experiments are perfect for the budding little lab rat. Ages 4 and up.
4. Gravity Goo – Retail Price: $17.99
Kids love Goo, so it's no wonder this kit is so popular. Kids can grow their own goo and watch it defy gravity and flow uphill. Add Pearl Swirl, Clear Spheres and Garbled Marbles (which grow up to 300 times their size in water) to help illustrate how the goo is moving and grooving. Ages 8 and up.
5. Come to Your Senses – Retail Price: $17.99
With this kit, kids will explore their five amazing senses (touch, taste, smell, sight and hearing) and how they work. They'll learn to read with their fingers, map out their tongues' "taste centers", test their sense of smell, make a stethoscope with yarn and wire, learn about sound waves with the included kazoo voice disguiser, make a knee jerk reflex tester, experience and learn about optical illusions and much more. Ages 8 and up.
6. FX Snow – Retail Price: $6.99
Kids can add movie magic to models, train sets and action figures with FX Snow, a kit that lets them turn scenes into winter wonderlands. Just add water to a sprinkling of InstaSnow® (an amazing water absorbent polymer) and you'll be amazed by the reaction that erupts before your eyes. It's so cool and realistic, you just may end up stealing this and using it for your own holiday decorations around the house. Ages 4 and up.
7. Jiggly Jewels™ – Retail Price: $6.99
After playing with this kit, your kids will run circles around you when it comes to understanding the science of super-absorbent polymers. Jiggly Jewels™ instructs kids on how to grow a treasure trove of jewel-colored squishy crystals. Kids can watch the crystals grow, play squishy marbles, uncover the secret of natural pearls and how they're made, use giant jelly polymer pearls to learn about the physics of bounce, and much, much more. Ages 8 and up.
8. Cool Slime – Retail Price: $6.99
Mix together two innocent looking liquids and voila! Gobs of green, gooey slime, perfect for all sorts of maniacal mad scientist activities. Besides learning how to stretch Cool Slime to its fullest length and how to blow Cool Slime bubbles, kids will learn about molecules, polymers and the chemical reaction that results in this party-favorite substance. Ages 8 and up.
9. Geyser Tube™ – Retail Price: $4.99
Add a little soda and a Mentos® candy to this special little tube and create a controlled (but spectacular) geyser that shoots up to 25' in the air. Kids learn about chemical reactions and the physical principals of force. The Geyser Tube™ is designed as an outside experiment so an outdoors location is highly recommended, particularly if you like your ceilings the way they are. Mentos and a geyser tube are included; soda is sold separately. Winner of the ASTRA Top Ten Toys of 2008 award. Ages 8 and up.
10. Grow Snow, Garbled Marbles, Gravity Goop & Amazing Spheres Blister Cards – Retail Price: $3.49 each
For a whole lot of fun at a seriously nice price, BeAmazing! Toys' blister cards take bits of their other popular science kits and offer them as singular experiences that you can mix and match to cater to the particular tastes and interests of your own little scientist. Aimed at younger kids, these "starter" kits are perfect stocking stuffers and will get kids interested early in science and learning. Ages 4 and up.
###