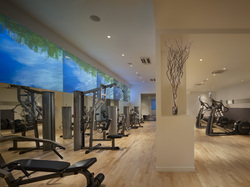 "As AKA guests typically stay a month or longer, we have the unique luxury of extended time and are ideally positioned to facilitate guests reaching their goals."
New York, NY (PRWEB) November 24, 2010
Year after year, the most popular New Year's resolutions focus on lifestyle goals: losing weight, exercising and living better. To kick start long-term lifestyle ambitions, AKA has developed a special offering that will help travelers with fitness, diet and stress reduction techniques throughout their extended stay at any of the luxury brand's eight locations. Part of the popular AKA Live It! program, the Healthy Living experience includes an initial 30-minute personal consultation with a member of AKA's Wellness Team along with three one-hour classes of the guest's choosing (from personal training to spin, yoga or any desired fitness routine) and a written maintenance plan to help guests return home more fit, inspired and relaxed than when they arrived. The Wellness Team is comprised of certified personal trainers in each AKA city. Available now through 2011, the add-on perk is priced at $350 per person.*
AKA guests can choose to sweat en-suite in the spacious accommodations; trainers can bring in necessary equipment ranging from resistance bands to medicine balls. Those looking to exercise outside the suite can work out in the fully-equipped gyms or while sightseeing in one of AKA's popular urban cities. New York City visitors can kayak in the East River, bike across the Brooklyn Bridge or climb the 1,860 steps to the top of the Empire State Building. When in the City of Brotherly Love, what's a workout without re-enacting the infamous Rocky scene running up the steps of the Philadelphia Museum of Arts (while singing "Eye of the Tiger")? Or see D.C. in a whole new way - take in the National Mall on rollerblades. Whether committing to healthy goals during a longer stay in one city or shedding pounds while traveling to multiple destinations, AKA keeps guests focused on fitness with locations in major cities.
AKA Live It! is a lifestyle program that provides life-enriching opportunities for guests, ranging from wellness programs to learning experiences such as guitar lessons, photography or cooking gourmet cuisine. The program was conceived and developed by AKA co-president Larry Korman to encourage people to follow their dreams and ambitions. "As AKA guests typically stay a month or longer, we have the unique luxury of extended time and are ideally positioned to facilitate guests reaching their goals," said Korman.
Nightly seasonal rates for a 30-day stay start at $265.* For reservations, please contact inquire(at)stayaka(dot)com.
For additional information, please visit http://www.hotelaka.com or call (866) AKA-9999. To keep up with the latest news at AKA, check out the brand on Twitter and Facebook.
AKA, a division of Korman Communities, is an innovative, new and growing collection of flexible-stay distinctive residences in prime urban locations. Currently AKA properties are in: New York City (4); Philadelphia, Washington, D.C., White Plains, NY, and Arlington, VA. Across the brand, architecturally inspired spacious accommodations, which range from studios to two-bedroom penthouse suites, offer the privacy of contemporary apartments infused with hotel services. While each property is unique and has distinct guest offerings, all feature the AKA brand standards and amenities of: fitness centers; full-service business centers with meetings space and complimentary high-speed Internet access; en-suite dining; same-day, valet dry-cleaning and laundry service; 24-hour front desk assistance; dedicated doormen, concierge services and full-time, on-site management and maintenance. All suites include top-of the-line kitchens, contemporary furnishings, luxurious bathrooms, meticulous housekeeping; extended digital cable with HBO, DVD players, and complimentary Wi-Fi access. Personalized service is a hallmark of AKA.
*Based on availability and does not include taxes or surcharges.
###