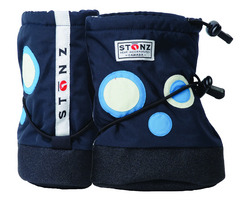 Vancouver, BC (PRWEB) November 24, 2010
With winter weather moving in, Stonz Booties have come out on top when it comes to gearing up babies and toddlers for the great outdoors. Stonz Wear, a popular manufacturer of high-quality infant and children's outerwear, today announced its innovative Stonz Booties received a Seal of Approval from The National Parenting Center for Holiday 2010 products. The award identifies the finest products and services in today's market geared to the parent/child audience.
Newly available in the U.S. market, Stonz' flexible nylon and fleece-lined Booties are weather-resistant and feature a wide opening that make them easy to slip over other socks, slippers, shoes or bare feet. The Booties cover all the way through mid-calf to protect both feet and ankle, and are fastened securely in place by two adjustable toggles to ensure they stay on little feet. The soft-soled Booties – recommended for developing feet – can be worn outdoors as well as indoors, and are available in sizes to fit newborns through toddlers.
"Stonz Booties are unlike anything on the market, and were developed out of necessity after I resorted to wrapping scarves around my infant's feet and ankles to keep him warm in the snow," said Stonz Wear Founder Lisa Will. "I knew Stonz was on to something when we became flooded by customers asking if they could have some Stonz Wear business cards to pass out, because they were stopped so often by strangers asking where they could get our baby boots!"
Stonz Booties were recognized as one of three Holiday 2010 Seal of Approval Winners in the Children's Clothing and Accessories category. To receive the award, the booties underwent an eight-week test period that solicited evaluations from parents and children, signifying to other parents Stonz Booties are peer-approved. The award evaluators cited many positive Stonz' qualities, including the non-slip grip, wide-opening for easy on and off, ability to machine wash the booties, and the contemporary style, among others.
Stonz Booties come in over forty unique designs, in sizes small through XL, and retail for $42.95. Stonz Linerz, an additional fleece liner that slips inside Booties to provide additional warmth and protection in very cold temperatures, are available for $17.95. Stonz also sells Hatz and Mittz to compliment its Booties. All products are available at http://www.stonzwear.com.
About Stonz Wear:
Based in Vancouver, BC, Stonz Wear is a leading Canadian manufacturer of children's outerwear products. The company offers a range of durable and functional booties, hats and mittens suitable for infants through toddlers and up. Quality, innovation, function and style are the four signature elements of all Stonz products, and each offering is designed to help active parents share the great outdoors with their children. All Stonz products are handmade in Canada and are available throughout North America, Europe and Japan. http://www.stonzwear.com.
###