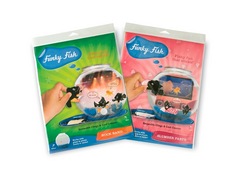 "What does your fish have to say?" asks managing partner Gina Eaton. She notes, "Kids love to script their own chat bubbles. It's a conversation that keeps going from day to day."
Minneapolis, MN (PRWEB) November 26, 2010
Funky Fish are colorful, reusable fish characters and themed backgrounds, accessories and chat bubbles. They cleanly and easily cling to the outside of fish bowls and tanks. Each of the Rock Band or Slumber Party kits offers a cleverly themed adventure for the fish tank...and its finny occupants. Kits include 3 fish characters (Zipper, Finn and Koral), accessories, a detailed background, an absorbent 4-color coaster and "chat" bubbles which are scriptable with a dry erase marker. "Kids of all ages" (3 and up) can accessorize their tanks or bowls in endless imaginative ways. Funky Fish Rock Band and Funky Fish Slumber Party are found only online at http://www.gofunkyfish.com for $9.95 (includes free shipping in the contiguous U.S.). They make a unique and affordable gift for kids.
In 2009, Minneapolis, Minnesota parents Mark and Karena Casey, and Bruce and Gina Eaton put their heads together (along with the imaginations of their 4 kids) and developed a fun, creative and inexpensive toy product called Funky Fish. "We developed the kind of toy that parents can really appreciate: no-batteries required, no cleaning, yet affordable and safe," states founding partner Karena Casey. She adds, "Funky Fish helps to refresh interest in something that many families already have: a fish in a tank that might have lost its charm. Funky Fish is totally unique — there's nothing out there quite like it and the kids just love giving the fish characters their own personalities, conversations and adventures."
Funky Fish aren't just for kids: they cling to any clean, smooth surface like windows and computer screens which makes them a great gift for high school and college students as well.
Give a fish some funky fun.

Choose Rock Band or Slumber Party themes
Perfect for drum bowls and small tanks
Stays clean because it's outside the bowl or tank
No adhesives. Clings are removable and can be traded between bowls or tanks
For use on clean, smooth, clear glass or plastic surfaces
Helps prevent BFS (Bored Fish Syndrome)
Easy and affordable fun under $10
Makes a great gift
###