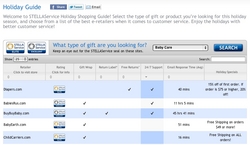 The last thing any of us want is to deal with bad service.
New York, NY (PRWEB) November 24, 2010
STELLAService, the first and only company dedicated to providing independent, comprehensive ratings on the customer service quality of online retailers, today announced the release of its first annual STELLAService Holiday Shopping Guide. The Guide is an online directory intended to help point holiday shoppers to retailers that offer a top-rate online customer experience.
STELLAService conducts in-depth evaluations of e-retailers in order to measure and benchmark real, unbiased customer service metrics for each merchant. As an independent organization, STELLAService assesses Internet retailers across three main areas: (1) online user experience; (2) shipping and returns; and (3) live customer support. Companies that have achieved a service rating ("STELLA Rating") of "EXCELLENT" or "ELITE" were selected to be a part of the Guide.
In addition to providing outstanding service, many online merchants are offering special deals to shoppers during the holidays. CSNStores.com, DVDEmpire.com, eBags.com, LaneBryant.com, Magellans.com, and shopnewbalance.com are just a handful of top-rated, customer-centric online stores offering special deals through the Guide.
"The holidays are an extremely busy time for most people" said John Ernsberger, Co-founder of STELLAService. "The last thing any of us want is to deal with bad service. That's why we created this easy-to-use Guide that highlights e-retailers that make the customer experience a top priority."
The STELLAService Holiday Shopping Guide can be found at: http://www.stellashopper.com/holiday-guide
About STELLAService
STELLAService is the first and only company dedicated to publishing objective, in-depth ratings on the customer service performance of online businesses. STELLAService adheres to the highest evaluation standards; it does not inform Internet retailers of the timing of its evaluations and pays for all products purchased from - and returned to - each website it evaluates. Retailers cannot influence the ratings in any way other than providing consistently great service to their customers. The invaluable data obtained by STELLAService is used by consumers to make more informed online purchasing decisions and by companies to obtain crucial business and industry intelligence. Formed in April 2009, the company's Advisory Council and highly trained analysts represent today's thought-leaders in the area of online customer service. More information can be found at: http://www.stellaservice.com.
For more information, please contact:
STELLAService Public Relations
Office: 212-366-1483 or PR(at)stellaservice(dot)com
###