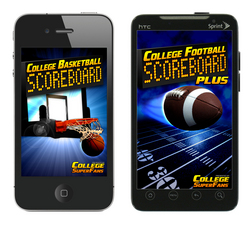 Jacksonville, FL (PRWEB) November 26, 2010
Smartphones Technologies unveiled two new apps for sports fans- College Basketball Scoreboard and College Football Scoreboard. Both apps are available now on Apple's iTunes App Store and Google's Android Market.
College Football Scoreboard and College Basketball Scoreboard give sports fans up to the minute college scores, schedules and news stories for major conferences, including: ACC, Big 12, Big East, Big Ten, Big Sky, Big South, Colonial Athletic (CAA), Conference USA, Ind (FBS & FCS), Ivy League, Mid-American (MAC), Mid-Eastern Athletic, Missouri Valley, Mountain West, Northeast, Ohio Valley, Pac-10, Patriot League, SEC, Sun Belt, Southern, Southland, and WAC.
Features include:

Custom scores feeds by conference. The ticker shows scores from your selected conference first, then other Top 25 games.
Sharing scores and news stories via Facebook, Twitter and Email from within the app.
Both apps include a free, ad supported version and a paid version with no ads.
To see the iPhone Scoreboard apps, go to: http://bit.ly/e6MQum
To see the Android Scoreboard apps, go to this URL on an Android device: http://bit.ly/i2FJ17 (link will not work on a computer)
Smartphones Technologies also publishes College SuperFans apps for 85 colleges and universities, as well as officially licensed College Clock Widgets, Live Wallpapers and Interactive Themes.
About Smartphones Technologies
Founded in 2002, Smartphones Technologies is a mobile application publisher specializing in next generation content for all the most popular platforms including iPhone, Android and Blackberry. Smartphones Technologies has developed applications for leading brand owners and its application library is available on carriers, portals and App Stores worldwide. Smartphones has licensing agreements with more than 180 colleges and universities. Based in Jacksonville, FL, Smartphones Technologies is privately held. For more information, please visit http://www.smartphonestech.com.
# # #