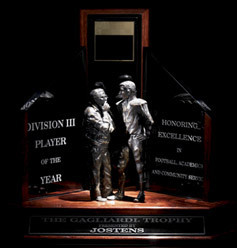 Minneapolis, MN (PRWEB) November 24, 2010
Ten seniors have been named finalists for the 2010 Gagliardi Trophy given to the most outstanding football player in NCAA Division III (D-III) by Jostens and the J-Club of Saint John's University of Minnesota. The Gagliardi Trophy, given annually since 1993, recognizes excellence in athletics, academics and community service. The award is named after John Gagliardi, Saint John's legendary Hall of Fame head football coach who has 478 career victories, the most in college football history.
The Gagliardi Trophy will be presented on Thursday, December 16, in Salem, Va., home of the Stagg Bowl, at a banquet kicking-off the D-III championship weekend. For the first time, the top four vote-getters, as determined by a national selection committee, will be on hand for the banquet; announcement of the winner and presentation of the trophy will be made at that time.
Letters of nomination were submitted by 26 college presidents from around the United States with five of the finalists having helped their team reach the D-III playoffs this fall: quarterbacks Kyle Ray of Franklin College (Ind.) and Eric Watt of Trine (Ind.), running backs Quincy Daniels of Mary Hardin-Baylor (Texas) and Ben Wartman of St. Thomas (Minn.), and wide receiver of Aaron Rusch from defending national champion UW-Whitewater.
Also named were defensive end Matt Hoffman from Rowan (N.J.), quarterbacks Justin Feaster of Hardin-Simmons (Texas) and Ben McLauglin of Louisiana College, running back Shea Dwyer from Wesleyan (Conn.), and wide receiver Zachary Homyk of Case Western Reserve (Ohio).
The Gagliardi Trophy national selection committee is composed of 35 former small college football players, business leaders, academicians and sports writers from around the country. Each casts a ballot ranking the ten finalists. College football fans may also vote on http://www.d3football.com; their tally represents one collective ballot. Balloting closes at noon on Tuesday, Nov. 30.
The trophy design features a sculpture of Gagliardi and a player representing the teacher-coach and the student-athlete in a classic one-on-one sideline consultation. Hand-cast in bronze on a polished wood base, the trophy stands nearly two-feet tall and weighs 64 pounds. The words "Division III Player of the Year" and "Honoring Excellence in Football, Academics and Community Service" are etched in glass on two panels flanking the figures. Offensive tackle Blaine Westemeyer of Augustan (Ill.) was the 2009 Gagliardi Trophy winner.
2010 Gagliardi Trophy Finalists
Statistics are Through end of Regular Season. Voting Deadline is Noon on Tues., Nov. 30. The top Four Will Attend the Announcement and Presentation in Salem, Va., on Thurs., Dec. 16
Quincy Daniels, Mary Hardin-Baylor (Texas) senior RB from Belton, Texas. Playoff team's leading rusher with 922 yards and 15 TDs; rushed for 100+ yards in 6 of his 9 games. Team and conference career rushing leader. Business administration major received National Football Foundation Scholar-Athlete Award. Active with local elementary mentor program and food drive.
Shea Dwyer, Wesleyan (Conn.) senior RB from Marlborough, Conn. All-conference back fourth in NCAA D-III with 155.25 yards/game game (5.7/carry). Set team single-game record with 255 yards, season record with 1,242. Rushed for 11 TDs (12 total). Government major who received a leadership scholarship. Serves as teaching assistant and tutor; active in food, clothing, toy drives.
Justin Feaster, Hardin-Simmons (Texas) senior QB from Glen Rose, Texas. Directed nation's top total offense (516.5 yards/game). Ranked 10th in individual total offense (293.1 yards/game; 13th in passing efficiency (167.88) with 29 TD passes, 10 INTs. Sports management major. Volunteers with Special Olympics and at area senior center.
Matt Hoffman, Rowan (N.J.) senior DE from Burlington, N.J. All-conference performer named league's defensive player of the year. Team leader with 19 tackles for loss and 8 sacks. Ranked 6th nationally with 2.11 tackles for loss/game. Health and exercise science major named Rowan scholar-athlete. Active with various volunteer causes, missed game in '09 to donate bone marrow.
Zachary Homyk, Case Western Reserve senior WR from Chicago, Ill. Set school single-season records with 90 receptions (5th in nation) and 116.5 yards/game (9th). Conference leader in most receiving categories. Finance major; finalist for 2010 William V. Campbell Trophy, which is considered the "Academic Heisman." Chairs community service program for Case Association of Student-Athletes.
Ben McLaughlin, Louisiana College senior QB from Pineville, La. National leader in passing yardage with 377/game and TD passes with 42 (13 INTs). QB for nation's #3 total offense (513.7 yards/game). Ranked 18th in passing efficiency at 159.93. Math (and Health/Phys. Ed.) major now teaching full-time; three-time academic all-conference. Active in Fellowship of Christian Athletes.
Kyle Ray, Franklin senior QB from Trafalgar, Ind. Rated #1 in passing efficiency nationally at 193.29 with 32 TDs, 7 INTs; 11th in total offense with 291.3 yards/game. Conference offensive MVP. Led team to its third playoff berth in four years. Dean's list journalism major. Worked with Habitat for Humanity projects; raised funds for Special Olympics.
Aaron Rusch, UW-Whitewater senior WR from Theresa, Wis. Top receiving threat on Division III defending champions ranked 5th nationally in 2010 in total offense. All-conference end also returns punts. Holds five school receiving records. Physical education major nominated for two national honors programs. Volunteers with local elementary school reading and mentor programs.
Ben Wartman, St. Thomas senior RB from Prior Lake, Minn. Rushed for 738 yards on playoff team despite missing two games to injury. Holds team scoring and rushing records. Finance major named as lone D-III recipient of National Football Foundation Scholar-Athlete Award. On student-athlete advisory committee; volunteers with Special Olympics, toy drive.
Eric Watt, Trine senior QB from Kentland, Ind. Guided team to playoffs as nation's #2 passer (187.2 efficiency rating) with 28 TDs and 5 INTs (top team nationally in turnover margin of +21). QB for #2 team in total offense (515.4 yards/game). Finance major in international business and honor society member. Active with various campus and community volunteer programs.
About Jostens
Minneapolis-based Jostens is a provider of products, programs and services that help people tell their stories, celebrate important traditions and recognize achievements. The company's products include school yearbooks and other memory book products, scholastic products such as class rings and graduation products, and products for athletic champions and their fans. Jostens is a subsidiary of Visant Corporation, a marketing and publishing services enterprise servicing the school affinity, direct marketing, fragrance and cosmetics sampling and educational and trade publishing segments.
About Saint John's University J-Club
Founded in 1959, the Saint John's University J-Club is a dues-based booster organization of former Johnnie student-athletes, parents and fans, and plays a key role in support of the SJU varsity programs, intramurals and club sports. Saint John's is a private liberal arts college for men located in Collegeville, Minn.
###