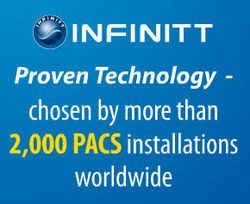 Now that we have firmly established the foundation for sustainable business through the global network, we will continue to provide premium products and service to our customers and expand our market share in the medical imaging industry
Phillipsburg, NJ (Vocus) November 24, 2010
INFINITT Healthcare, a global player in PACS, RIS and 3D visualization technologies, recently exceeded a worldwide network of 2,000 customers.
On November 2, 2010 INFINITT Healthcare announced that the number of medical facilities that have installed and are currently using their PACS solution has exceeded 2,000. As of September, 2010, INFINITT's customers worldwide add up to 2,002 (Domestic: 1,259, Overseas: 743.) INFINITT achieved this milestone in 12 years, having started in the PACS business in 1999.
INFINITT's global reference sites include world-renowned hospitals such as Seoul National University Hospital (South Korea), St. Joseph's Regional Healthcare System (USA), and Tokyo Women's University Hospital (Japan). Japan ranks the highest with 170 medical facilities; the United States has 130, Taiwan 85, and China 80.
Sun Joo Lee, Chief Executive Officer of INFINITT, attributes the company's success to its compliance with global standards, the product's ability to support their customers in various languages, and most importantly, outstanding service.
"Now that we have firmly established the foundation for sustainable business through the global network, we will continue to provide premium products and service to our customers and expand our market share in the medical imaging industry," said Lee.
In 2003 INFINITT had only 331 customers, but that number rose to 1,000 by the end of 2007. Within 3 years, it reached the 2,000 mark. Growth was especially strong in 2008, when INFINITT contracted with 300 new customers; each year since then, the number of customers has increased by more than 100.
INFINITT accounts for 70% of market share in Korea and also ranks 1st in market share in South East Asia. Currently, the company has 7 global business units: USA, Japan, China, Germany, Malaysia, United Kingdom and Taiwan and also has global reference sites in 20 other countries.
INFINITT will continue to expand its overseas business, entering the PACS market in Brazil and the Middle East by the end of 2010. INFINITT plans to establish a total of 9 global business units and 12 overseas branches and grow into a global top 5 brand in Healthcare IT by 2014. INFINITT will focus on Mobile PACS and next generation EIMS (Enterprise Image Management System) development and the expansion of Smart Service. Through this strategic plan, INFINITT forecasts positively that the expansion of global network and extended R&D will enable a customer base of 3,000 customers by 2013.
About INFINITT
With over a decade of experience, INFINITT has provided affordable, state-of-the-art medical imaging and information capabilities to numerous Radiology, Cardiology, Orthopedics, and Dental healthcare facilities worldwide. Since the early origins of medical imaging and information technology, including Picture Archiving and Communications System (PACS), 3D Visualization, Radiology Information System (RIS), and Clinical Information System (CIS), our primary objective has been to develop the most advanced, cutting edge medical imaging and information solutions. Augmenting that objective is our strict compliance with worldwide industry standards such as DICOM, HL7, IHE, and HIPAA.
INFINITT provides its products and solutions to more than 2,000 medical facilities in 25 countries worldwide and strives to become the World's Best Brand in the Healthcare IT industry by providing the highest levels of service, standards compliance and scalability, addressing not only today's imaging and information needs, but providing for the fully-digital enterprise of the future.
For more information, visit the INFINITT website at http://www.infinitt.com
###