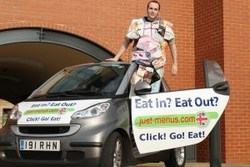 (PRWeb UK) November 24, 2010
Alex Redpath, a former call centre worker who is currently studying at Northumbria University, has created a new listings service for restaurants and takeaway shops which will now expand into Yorkshire after proving a great success in the North East.
The company, that hosts names, addresses and contact details, together with menus, of venues alongside local taxi numbers, is now calling for all restaurants in the Yorkshire area, from as far North as Richmond right down to Sheffield, to sign up.
Mr Redpath, 23, was inspired to set up the firm when he tried to book a restaurant for his birthday and, after using Google, could only find significant information on two in his area.
He then caught the entrepreneurial bug when he enrolled on a part time course at Northumbria University, as he strived to find a more challenging career than his life in the call centre.
He had also grown exasperated at the amount of junk mail he received from restaurants on a daily basis at his home - and now hopes to help curb the amount of wasted paper by developing an online alternative.
The entrepreneur believes that just-menus.com is on target for national success because it offers far more focused and easily accessible information than published directories such as the Yellow Pages, while it does not focus purely on major cities like other online directories on the market.
He said: "Entrepreneurship has always been in the family so it's constantly been in the back of my mind. However, working full time in a call centre left me wishing I could challenge myself more. Once this opportunity arose I just simply couldn't ignore it.
"One of our aims is to be as environmentally friendly as possible. Our service especially helps takeaways by reducing the number of menus they need to print and distribute, saving the owners the costs of printing and distribution and thereby increasing their profitability."
Mr Redpath, alongside his three fellow members of the company's workforce, is also planning on developing the website in up to 20 additional languages to coincide with the 2012 Olympics in London.
The website, which provides a fully comprehensive directory of all food choices in the area, is free for hotels, restaurants, cafés and takeaways to upload their information and menus.
To add your company to the website, or to sign up for the free monthly newsletter with information and special offers on food companies in your local area go to http://www.just-menus.com.
# # #