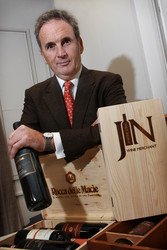 "Each wine has its own personality evident in the taste, smells, colours and climate of origin. With so many varieties available there is definitely a wine out there to match your own individuality and the uniqueness of every occasion especially Christmas
(PRWeb UK) November 25, 2010
Irish wine lovers are refusing to forego the luxury of a good bottle this Christmas, according to a leading wine merchant who will uncork 12 festive favourites at a tasting organised by Cork-based specialist Parsons Wine Warehouse.
James Nicholson, who founded the multi award-winning JNwine.com, will be sharing tips gained from more than 30 years of experience in the wine trade to help shoppers find the perfect bottle for any occasion on Sunday 28th November.
He said consumers were set to gain as fine wines enter the market at more affordable prices:
"The public's knowledge of wine has certainly increased in recent years and, while people are probably consuming less wine, they are consuming it in a clever, quality-conscious way. Wine lovers are shopping around a lot more, looking at new varieties, grapes and producers and seeing that there is fantasticvalue to be had," said Nicholson.
"Like all other sectors, winemakers too have had to adjust to changing market conditions over the last two years. The good news for consumers is that the quality of grapes is notaffected by the recession and there have been some outstanding harvests that are now hitting the markets."
James Nicholson set out thirty years ago to bring the very best wines to Ireland. Since then he has earned a formidable reputation as one of Britain and Ireland's best specialist retailers and won plaudits from celebrated wine authorities including Jane MacQuitty and Jancis Robinson.
Managing Director of Parsons Wine Warehouse, Kevin Parsons, said:
"Each wine has its own personality evident in the taste, smells, colours and climate of origin. With so many varieties available there is definitely a wine out there to match your own individuality and the uniqueness of every occasion especially Christmas.
"James has a great passion for wine and doesn't get caught up in the jargon that can put people off. His knowledge is second to none and we're fortunate to have him personally present a range of wines from his award-winning portfolio."
Nicholson's firm – JNWine.com – supplies many of the leading restaurants and hotels across the island.
Bridgestone Irish Food Guide author, John McKenna, describes Nicholson's work as having "defined the entire spectrum of the culture of food and wine. He is not simply a modernist: he is an iconoclast."
The tasting event takes place on Sunday 28th November from 2pm to 5pm. To find out more contact Parsons Wine Warehouse on tel: 021 4373237 for details.
###