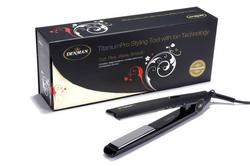 The Titanium Pro is fantastically versatile; you can use them for anything from smoothing and adding sheen, to creating curls and bends
London (PRWeb UK) November 25, 2010
Denman International: New from Denman is the TitaniumPro™ Styling Tool with advanced ion technology, a multi-performance tool packed with advanced features and housed in a sleek design.
Iconic professional brush brand Denman launches THE ULTIMATE premium electrical styling tool, the Denman TitaniumPro™ this November. It's as aspirational as a Birkin and as high performance as a Porsche. Designed specifically for the forward thinking professional, this tool is responsive and effortless, allowing the expert to focus on the thing they love best – the hair!
The outstanding functionality and superb finish will delight both the hairdresser and style savvy women everywhere, confirming that smart investment in professional tools is worth every penny.
The Denman TitaniumPro™ Styling Tool is packed with features and benefits designed to meet the exacting needs of progressive professionals and the demands of contemporary styling.

Titanium plates glide effortlessly over the hair with no snagging.
Ultra-smooth, floating plates deliver easy curl and flick styling in one pass to prevent damage.
Negative ion conditioning technology that eliminates static and frizz.
High gloss interior and edges for extra smooth curling action and easy cleaning.
"Cool touch" ends for two handed control and heated outer body to add gloss and lock down curls.
Pro variable temperature control 60-210°C ideal for all hair types, controlled by soft touch buttons.
Solid ceramic extra-long heating elements to ensure even heat distribution that emit far infrared rays to help lock in moisture.
For ease of use Denman has created a sleek ergonomic design and added a professional 3 metre 360 swivel cord, there is even dual voltage circuitry to help travellers on the go.
For safety the TitaniumPro™ Styling Tool has a 30 minute sleep mode, digital temperature control and auto diagnostic systems to prevent overheating plus a 'quick click' system for easy, safe storage.
Award winning hair professional and International Creative Ambassador for Denman, Mark Woolley of Electric Hairdressing says the Titanium Pro is fantastically versatile; you can use them for anything from smoothing and adding sheen, to creating curl and bend; and they¹re great for use with Keratin treatments. They're amazingly quick and easy to use and just slide down the hair. We use them exclusively on all our creative shoots and throughout our salons, to tell you the truth, I don¹t know how we ever got on without them."
The Denman TitaniumPro™ Styling Tool with Ionic Technology is available to purchase from any Adel Hair & Beauty branch or alternatively, contact Denman International on FREEFONE 0800 262509. RRP £125 inc VAT.
About Denman International: Denman is the UK's foremost manufacturer and distributor of professional hairdressing tools which are marketed under the DENMAN brand. Their commitment to product design and development has consistently kept them at the forefront of the innovative hair industry.
For further details contact:
Denman International Limited, Clandeboye Road, Bangor, Co.Down, BT20 3JH.
Tel: +44 28 9146 2141 Fax: +44 28 9145 1654.
Web http://www.denmanbrush.com Email sales(at)denmanbrush(dot)com
For more information, samples or images via email for Denman contact:
Geri or Kimberley at JWPR Tel: +44(0)20 3252 0094 Fax: +44(0)20 8916 3183
Email: geri(at)jwpr(dot)co(dot)uk or kimberley(at)jwpr(dot)co(dot)uk
###