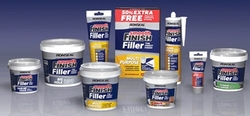 The products are straightforward and easy to use, so great results can be achieved by all DIY'ers, irrespective of experience.
(PRWeb UK) November 25, 2010
Leading woodcare and coatings manufacturer Ronseal, has launched a range of super smooth wall filler products, designed to help any DIYer achieve smooth, professional results.
Suitable for use on plaster, stone, concrete and wood, products from Ronseal's Smooth Finish Filler range are quick and easy to use and give perfect, long-lasting results.
The Smooth Finish range includes Multi Purpose Filler and Multi Purpose Powder Filler for everyday DIY projects, Exterior Multi Purpose Filler for outdoor repairs and the fast drying, 5 Minute Multi Purpose Filler perfect for last minute repairs.
For more specific projects, the extensive range also includes Super Flexible Filler, designed to fill spaces around interior door frames, window frames and skirting boards; Hairline Crack Filler, developed specifically to produce invisible repairs on small cracks; Big Hole Filler for large holes up to 50mm deep and Quick Drying Filler for those jobs on the go and when time is limited.
Many of the Smooth Finish Fillers also come in handy 100g sized tubes which are ideal for small repairs, and to guarantee the perfect finish, all tub and powder products also come complete with a specially designed applicator, for smooth, fast filling. Ronseal Smooth Finish Multi Purpose Powder also comes complete with a measuring scoop, to help make the perfect mixture.
James Smith, Marketing Director, Ronseal said: "Filling holes in walls is one of those jobs where achieving a professional finish is key for perfect decoration. The Smooth Finish range of fillers has been developed to do just that. The products are straightforward and easy to use, so great results can be achieved by all DIY'ers, irrespective of experience."
###