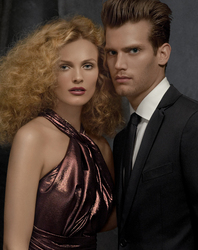 Manhasset, NY (PRWEB) November 29, 2010
This month Americana Manhasset debuts its sophisticated 60-page Holiday Fashion and Gift Book, shot in a custom-made set in Manhattan. Holiday and Resort ready- to-wear, accessories and jewelry from the most impressive brands in the world are captured in a luxurious and rich picture book. The images are also featured front and center on Americana's website, americanamanhasset.com.
The campaign - photographed, produced and styled by Laspata/DeCaro - stars top editorial models Edita Vilkeviciute and Sean Harju. It has a decidedly classic look, evoking the style of Richard Avedon, but with a modern, young twist. The entire campaign was photographed against canvas in deep shades of grey, with simple cubes, chairs, ladders and stretched canvases providing sculptural interest. "The product is front and center in Americana Manhasset's Holiday Book, but the images together read as an artist's portfolio," said Charles DeCaro. From Louis Vuitton and Chanel to Tory Burch and Theory, each brand enjoys a unique image that also becomes part of a larger and lush story.
The book is direct-mailed to 130,000 households. The print campaign will also appear as a spread in the nationally distributed Holiday issue of The New York Times T Magazine.
Video continues to be an integral part of Americana's campaigns. The pages of the book come to life via a video lookbook on americanamanhasset.com, where the looks can be viewed in motion, up-close and from multiple views.
Americana Manhasset is a premier collection of over 60 fine shops, including Prada, Gucci, Ralph Lauren, Cartier, Louis Vuitton, Hermès, Van Cleef & Arpels, Dior, Hirshleifers and more, all within a unique outdoor environment designed by renowned architect Peter Marino and landscape designer Oehme van Sweden. Americana Manhasset offers a complimentary Personal Shopping Service, a remarkable luxury fashion and gift resource. Located on Long Island's beautiful North Shore, Americana Manhasset is 20 miles from Manhattan and 50 miles from the Hamptons. For more information about Americana Manhasset, check out Americanamanhasset.com, our Blog and Facebook page.
Additional images from Americana's 2010 Holiday Book are available upon request.
###