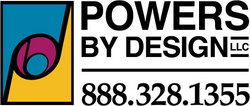 Over the last several years, our Chicago client base has grown considerably, At Powers by Design we promise to offer competitive pricing as well as personable services. Opening the new Chicago office enables us to do what we promise here Illinois.
Chicago, Ill. (PRWEB) November 30, 2010
Powers by Design enters 2011 with big changes. The St. Louis-based graphic design and web design company now works with small businesses from its Chicago office, which opened on December 1, 2010.
The new offices are located in the heart of Chicago and into the Willis Tower, formerly Sears Tower, at 233 S. Wacker Dr, 84th Floor in Chicago, IL, Christopher Powers, the company's Creative Director and CEO, provides extensive marketing experience and personalized customer service that Powers by Design is known for. Powers by Design is also known for the fact that it does both graphic design and web design, and is a full-service boutique advertising agency.
Powers by Design never outsources its design work to less expensive and inexperienced designers overseas. The company completes most of its work in-house and only relies on outside marketing experts when a client's project has particular demands.
Even with all of the work completed by the Powers by Design team, professional logo design, creative graphic design and affordable web design services are still significantly less expensive than larger advertising or design agencies in St. Louis and Chicago. However, this does not mean quality lacks because of the low price.
Powers by Design was again named one of St. Louis' Best in Business for Web Design by St. Louis Business Monthly. For a second year in a row, the publication has recognized Powers by Design. They emphasizes Powers by Design's ability for specializing in offering full service advertising and marketing solutions, from graphic design to web design.
"Powers by Design clearly has a singular approach," said Sara Lancaster, a copywriter that works with Powers by Design. "I'm impressed with their willingness to complete projects under tight deadlines and their full-scale approach to design, SEO and web development. They really don't leave a stone unturned for their clients."
To contact Christopher Powers, email chris(at)powersbydesign(dot)com or call their toll free number at (888) 328-1355. Visit Powers by Design to see the company's graphic design and web design portfolios.
About Powers by Design
Powers by Design is the marketing and advertising solution for small businesses by offering affordable website design, creative graphic design and professional logo design services.
Headquartered in St. Louis, and now a branch office in Chicago, the company's design solutions have reached small businesses in New York, Chicago, California, Ohio and Florida. For more information, Visit Powers by Design and see the benefits of graphic design and web design from Christopher Powers.
# # #