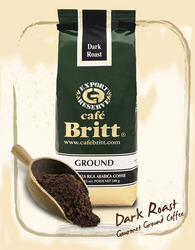 As a gourmet coffee exporter, Café Britt had all the necessary ingredients to make a great product. The unique climate and landscape of Costa Rica produces some of the best coffee beans in the world.
Heredia, Costa Rica (PRWEB) November 26, 2010
This year, Café Britt is celebrating its 25th anniversary, which further emphasizes the success that has been built on three core beliefs: superb quality, tremendous creativity, and a unique business model. In the beginning, Café Britt was just a small roastery that sold artisan coffee to locals and tourists. Now, it is a very diverse company with stores and operations in more than 10 countries employing over 900 people. The company's arsenal is packed with a wide range of gourmet products focusing on coffee but also including a vast array of chocolates and various candies. Its production and coffee distribution model became a case of study in Harvard University and gave the company the recognition of their costumers and stakeholders in different locations.
There was a time when all of Costa Rica's best coffee was exported as a commodity, leaving only the poorest quality of beans for local consumption. For New York coffee broker Steve Aronson, this situation was unacceptable. He recognized the potential opportunity for investing in Costa Rican gourmet coffee consumption and jumped on it. In 1985 when Café Britt was founded, not only did the company provide gourmet coffee to the local citizens, but it also expanded to export and share Costa Rica's gourmet coffees with the rest of the world directly from point of origin.
As a gourmet coffee exporter, Café Britt had all the necessary ingredients to make a great product. The unique climate and landscape of Costa Rica produces some of the best coffee beans in the world. Relationships with growers and fair treatment of farmers ensure access to the highest quality beans. In processing the beans, Café Britt uses the best wet mills and employs roasters with years of knowledge and experience. Finally, the core belief in superb quality permeates every aspect of Café Britt's process. These ingredients have led to Café Britt's phenomenal products, which in turn have driven the company to expansion.
The roasting factory in Costa Rica now shares the space with the CoffeeTour office and a Britt Shop. This retail shop was the first of more than 50 stores located in 10 countries around the world. The Coffee Tour office is responsible for guiding tourists and locals on tours of the fields and factories, highlighting the necessary steps needed to produce Café Britt's high-quality gourmet coffee. By inviting customers to the source, Café Britt has shared with them not only fine products but an unforgettable Costa Rican coffee experience.
Café Britt has also revolutionized Costa Rica's online business practices. In 1996, they developed one of the country's first online platforms. Their website – http://www.cafebritt.com - opened a new retail avenue to the world within the context of gourmet coffee. Coffee-lovers around the world were ordering Café Britt's famed gourmet coffee blends, often receiving them in less than 7 business days. The world's coffee aficionados truly experienced coffee directly from the plantation to their cup.
Guided by a Visionary
Visionary and founder of Café Britt, Steve Aronson explains his passion for culture and coffee: "We were thrilled to discover this hidden gem (coffee) and share Costa Rica's heritage with the world. Our enthusiasm for culture, nature and great flavors even went beyond our borders. In 2005, we (Café Britt) headed south to Peru and explored this country's highlands for the best coffees and colorful artful crafts that transpire this nation's fabulous legacy. In 2006, warmer winds blew under our sails with our expansion to Curaçao and The Caribbean. It was there that Café Britt parachuted our creative team into the fun and friendly island culture to create a line of products that truly reveal the islands' flair. In 2007, Café Britt then expanded to Chile, soaking up the vast diversity of the country's beautiful scenery and the warmth of its people."
The first Café Britt Retail Shop was built in Costa Rica's Juan Santamaria Airport. It was a very successful store model that was later replicated in many other airports. In 2008, the first American Café Britt Shop was opened at the Miami International Airport. It is there that Café Britt's primary American distribution center now operates.
This year Mr. Aronson entrusted the company to his son Philippe and the venture for expanding stores into Latin America continue as well as the expansion of the company's product portfolio. As any diehard Café Britt customer has noticed, the company's portfolio is much larger now than it was 25 years ago. Currently, Café Britt produces more than 10 different roasts of coffee as well as a wide variety of gourmet products like chocolate covered coffee beans, nuts, assorted candies, gourmet cocoa, and cookies.
Quality, Environment, Fair Trade Practices
Café Britt has felt the need to maintain a healthy and intense interaction with its growers during the production process. The company places a high regard on proper training and adequate advice to ensure the final product's premium quality and commitment to environmental standards prior to certification. A true Fair Trade model was also implemented, guaranteeing that all the coffee brought from local producers is in accordance to the Fair Trade laws and certifications.
Café Britt's philosophy behind every one of its products is based on four core beliefs: character, communication, creativity, and commitment to their customers and suppliers.
Sharing the Café Britt Experience
For Café Britt, the ideal customer is one who is able to get a taste of their coffee experience first hand. It may be a flight on Taca Airlines where Café Britt gourmet coffee is served to passengers. Coffee lovers may discover the unique taste of Café Britt coffee in one of the many hotels that serves the product. Or, best off all, tourists on cruise lines or Costa Rican vacations may get to feel the Costa Rican sun on their face while sipping Café Britt brew for the first time.
After a first encounter, most coffee lovers are hooked. They return home and often become customers, ordering coffee from the website, http://www.cafebritt.com, supplying their households with fresh Costa Rican coffee directly from the plantation. Customer reviews online praise Café Britt's efficiency and quality, confirming what the company set out to share 25 years ago: that Costa Rica produces some of the world's best coffee.
On the Horizon
Café Britt plans to continue to do what they do best – sharing Costa Rica's finest gourmet products with old and new customers around the world. The United States has been a large area of expansion and will continue to play an important role in future growth. Café Britt's website is one of the top 10 online coffee retailers for the US market and continues to grow in double digits annually.
The North American market still holds a huge amount of potential growth for Café Britt. Direct sales are common and online purchasing of gourmet products is increasing. With the current movement towards fair trade, high quality specialty foods and purchasing directly from place of origin, Café Britt's quality products and core beliefs along with rave reviews from current customers position the retailer for its expected growth in coming years.
About the Company:
Café Britt is a Costa Rican company that grows and roasts their coffee to perfection, in a sustainable and responsible way, buying directly to the growers and skipping the middleman. They manufacture gourmet coffees, chocolates and specialty items, operate over 50 stores at airports, hotels and other retail outlets in more than ten countries, and their online sales via http://www.cafebritt.com have reached most of the world. Such uniqueness is a reflection of its origin.
twitter
facebook
# # #