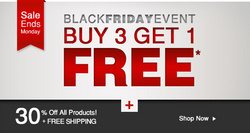 Buy 3 get 1 free. This also includes free shipping on any window covering order and 30% off each and every shade and blind in the order.
South Plainfield, NJ (PRWEB) November 24, 2010
SelectBlinds is offering the absolute best window shade and window blinds promotion over the Thanksgiving Day weekend. There are no caveats to that statement. Their window coverings are already priced as discount window blinds and shades, they offer free shipping on every order, as long as the blinds and shades can go UPS or Federal Express, and they also give 30% off on the entire order. This weekend, which SelectBlinds has extended to include the Wednesday before Thanksgiving, through the Monday after Thanksgiving, they are adding a free window blind or window shade to any order of three or more.
No need to read that paragraph again since it is all quite simple. Buy any three window blinds or window shades, and get a fourth blind or shade free. There are no gimmicks. Buy 3 get 1 free. This also includes free shipping on any window covering order and 30% off each and every shade and blind in the order.
It's entirely possible that someone might need just one window blind. Maybe they need a faux wood horizontal blind for the garage or guest bathroom. Go for it and shop for that faux wood blind with confidence. The pricing is competitive, get free shipping, and then get 30% off the order. But more than likely there will be a want to change the window coverings in a room. Most rooms have more than one window. This is exactly why this is being done; for all the end of the year total redesigns and who doesn't want to find the best deal around? With all types of reasons to update window coverings there may be questions on what the "Sweet spot" of these deals are. Here are a few examples:
Scenario #1: The room has two windows and the designer wants to shop for honeycomb shades. Well feel free to grab those two honeycomb shades from and then for the price of just one more window shade, order two more, resulting in your redecorating the windows in two rooms!
Scenario #2: Replace your old mini blinds with real wood blinds, or any room that has three windows. Order the real wood blinds, where you get free shipping and 30% off your entire order, and get a fourth blind free. Order the faux wood blind for the garage or bathroom, and pay absolutely nothing for it.
Scenario #3: This room has four windows. This is the jackpot scenario. Shop the tremendous selection of window blinds and window shades and choose any combination of horizontal blinds, vertical blinds, honeycomb shades, roller shades, roman shades, sheer shades, or woven wood shades that make the most sense for your home décor. When these are purchased then the least expensive of the four for are shipped for free.
Scenario #4 and beyond: Any mix and match window covering products imaginable. As long as you order more than three, they throw in a free blind or shade, period. There is no limit to the value of the freebie. It will just be the lowest priced shade or blind in the order. So buy $200 sheer shades, and then the free shade is a $200 sheer shade. Buy $30 mini blinds and the free blind will be a $30 mini blind.
This is a very exciting time for everyone and the industry knows it. SelectBlinds puts all of these types of promotions together with the general customer in mind and is why they continue to be the foremost authority in window blinds and shades to date. Kick off your holiday seasonal shopping with saving some extra cash already and design the perfect scenario for families and friends alike.
# # #