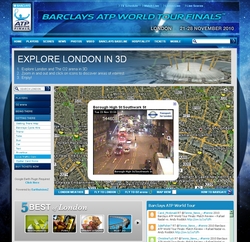 This is a very slick site and an excellent use of the Google Earth Plug-in
Boulder (PRWEB) November 26, 2010
EarthvisionZ, a world leader in 3D virtual-earth website development, announced today the launch of their new dynamic virtual earth on the Barclays ATP World Tour Finals event website. This cutting edge application gives tennis fans an innovative way to experience the host city, featuring interactive content on "Players", "Getting There", "Being There", and "Best Of" London. Users can easily access live traffic updates, tube maps, train station locations, bicycle rental shops, area pubs and hotels, live weather, athlete data, ticket sales, and even fish & chip shops. Anything or everything relevant to the event is easily accessed through a single virtual earth portal providing the user a simple and fun way to follow the Barclays ATP World Tour Finals in London.
http://www.barclaysatpworldtourfinals.com/About/London-In-3D.aspx
About EarthvisionZ - http://www.EarthvisionZ.com
EarthvisionZ delivers a revolutionary way to search, learn, connect, and explore using a visually engaging and easy-to-use 3D virtual earth interface. Users can travel the earth and access everything they need to know about a place or event, such as the Olympics, golf courses, ski resorts of the world or cities in 3D. With a simple click, explorers can view or share pictures and videos, live data feeds, social networks and more - all available in one web page view. EarthvisionZ, a Boulder CO software company, is a leader in virtual earth web platforms with a history of cutting edge innovation in geospatial technologies since 2003. They have developed extraordinary applications using Google Earth and other virtual globes to create interactive playgrounds in sports, renewable energy, news and entertainment, and for military, environmental, and transportation industries. Multiplatform deployment development includes mobile devices and internet TV.
For information contact:
Jeff Schott
President
email: schott(at)earthvisionz(dot)com
office: 303-444-1000 ext 224
SALES:
David Qualls
Director of Sports and News
tel: +1-720-259-2277
mobile: +1-720-933-5111
email: qualls(at)EarthvisionZ(dot)com
# # #