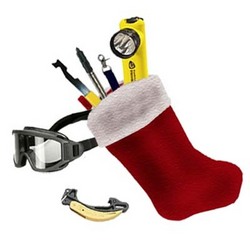 It's our pleasure to offer free shipping to the families of Firefighters and Pubic Safety Officials during this special time of year
Neptune, NJ (PRWEB) November 26, 2010
AllHandsFire.com, one of the foremost fire equipment suppliers in North America has just launched a "Holiday Free Shipping" marketing promotion.
Free shipping on orders of a certain size has become a rather widespread ecommerce Holiday promotion in recent years. All Hands Fire has just taken this idea a step further and is offering free shipping on all orders with no minimum order.
To make shopping for firefighter gifts easier this season, they have also added new categories such as "Stocking Stuffers" and "Firefighter Gift Ideas". The millions of shoppers that have Firefighters on their Holiday Gift lists now have a wide variety of unique new ideas for those difficult to shop for Public Safety Officials.
Out of the thousands of products that All Hands Fire offers, some of the most popular this Holiday season have been embroidered polo shirts and job shirts, flashlights, firefighter pocket tools, protective hoods, fire helmets, books, DVD's and more!
In the winter months Firefighters tend to upgrade their cold weather gear such as gloves, socks, knit hats with their fire department embroidery, Hand Warmers, etc. All Hands Fire is the exclusive vendor of Southcombe gloves in the US and also carries Dragon Fire / Firemen's Shield, ESKA, Ringer, and 5.11 Tactical gloves.
Since the newly renovated AllHandsFire.com website was launched last month, shopping for Firefighters, Law Enforcement and Public Safety Officials has become a lot easier and more enjoyable. The new site is easy to navigate and very user friendly.
Founder and President Don Colarusso explains, "It has always been our goal to cater to the individual firefighter, and when creating our newly improved website, we kept this in mind. It's our pleasure to offer free shipping to the families of Firefighters and Pubic Safety Officials during this special time of year".
All Hands Fire Equipment's customers are among the most influential fire departments and government agencies in the USA, including New York City, Los Angeles, NASA, and the US Government. They are also one of the largest suppliers of Firefighter Boots, Cairns Fire Helmets, Firefighter Escape Systems, and are expert, authorized trainers for many of the most commonly used firefighter tools in North America.
# # #